New Route of the Day (23 September 2023): Volotea between Nantes and Marrakech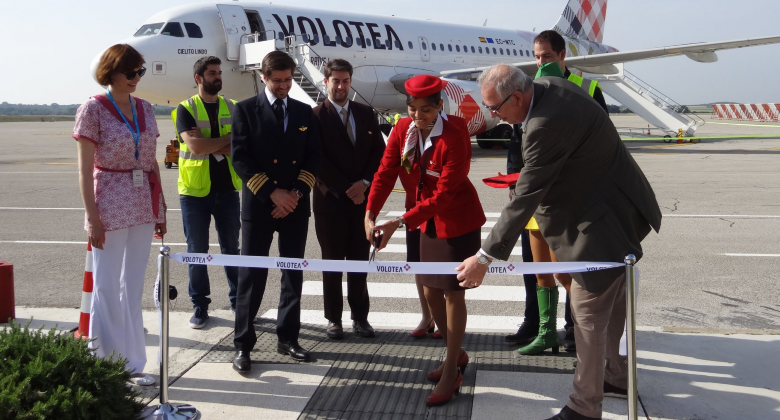 Volotea launched flights between its Nantes base and Marrakech in Morocco on Saturday 23 September. The 1,115-kilometre service will be maintained 2-weekly on Tuesdays and Saturdays with the 156-seat A319 aircraft. The airline faces strong competition on the route, going head-to-head against 9-weekly easyJet flights, as well as daily TUI fly operations.
What they said
Gabriel Schmilovich, Chief Strategy Officer at Volotea, said: "We are very happy to announce and mark the launch of this new service from Nantes, our first base in France, with our first flights to Morocco from the airport. We will soon be expanding our operations between Nantes and Morocco with the introduction of a second route, to Agadir, in December."
Nantes is Volotea's largest base
Volotea opened its base in Nantes in 2012 and is now the largest airline operating out of the French city based on available seat capacity. In September alone, the carrier has 202,728 seats on sale on its Nantes operations, ahead of second-placed easyJet with 176,328 seats.
Apart from Marrakech, the LCC is in the process of adding several new routes out of Nantes.
22 September: Porto (4-weekly)
24 September: Lisbon (2-weekly)
12 October: Stuttgart (2-weekly)
23 December: Agadir (weekly)
The airline's leading airport this Q3 is Nantes, overtaking Olbia for top spot. These two airports have almost twice as many available seats as the next busiest Volotea airport - Athens.
France overtakes Italy as Volotea's biggest market
Analysis of Cirium data for the third quarter of 2023 (July to September) shows that France (capacity up 18%) has overtaken Italy (capacity down 18%) to become Volotea's top country market for departing seats. Spain (+23%) and Greece (+2%) are the airline's other major markets. Airports in these four countries account for 95% of all departures in the airline's late summer network. In total, Volotea is operating regular flights in 15 countries in Q3, the same as in 2022 Q3, with Belgium having replaced Malta.