New Route of the Day (24 August 2021): Condor between Hamburg and Samos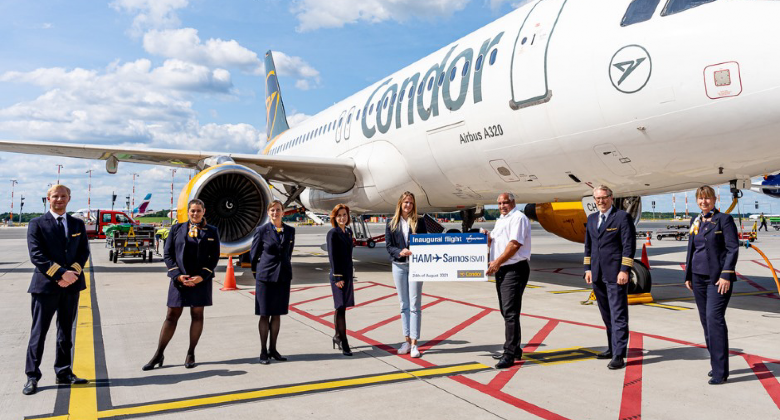 German leisure carrier Condor increased its holiday offering from Hamburg on Tuesday 24 August by launching a weekly flight to Samos in Greece. The inaugural service on the 2,197-kilometre route (flight number DE 1700 operated by an Airbus A320, registration D-ATCH) departed Hamburg at 06:18 and touched down at the Greek airport just under three hours later at 10:15 local time. The return flight (DE 1701) departed Samos at 11:21 and arrived back in northern Germany exactly three hours later at 13:21 local time. The route was previously served by airberlin, up until October 2016. The carrier had taken over the route from LTU in 2008 after it acquired the carrier. After a gap of one year, the route was once again served during the peak summer period of 2018 by Germania with A319s, before that airline also collapsed. Samos Island lies in the eastern Aegean Sea, not far from the coast of western Turkey. The airport is one of 14 operated by Fraport Greece. In 2019 the airport welcomed 480,000 passengers, up 3.7% on its 2018 figure of 463,000. In July of this year Samos served almost 52,000 passengers, down 41% compared with July 2019.
Condor has 19 routes from Hamburg in September
With 49 weekly departures scheduled in September, Hamburg is Condor's fourth busiest airport in Germany after Frankfurt (107 weekly departures), Düsseldorf (88) and Munich (59). It already serves Samos from each of these airports. Hamburg's 49 flights are spread across 19 airports, of which nine are in Greece, seven are in Spain and one each in Egypt (Hurghada), Portugal (Funchal) and Turkey (Antalya).