New Route of the Day (24 June 2023): flydubai between Dubai and Corfu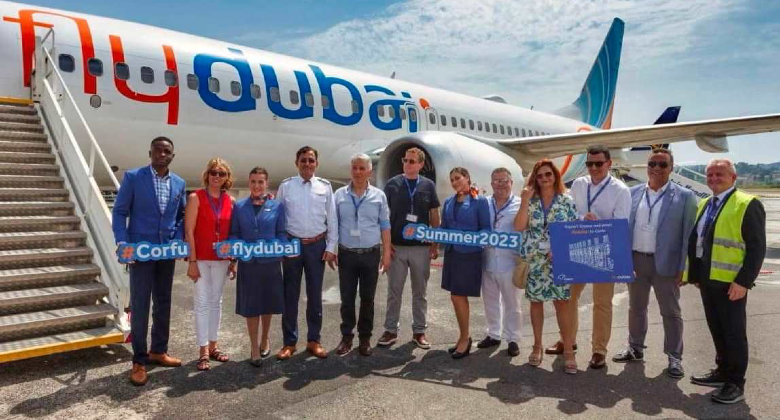 flydubai commenced a new seasonal service between its Dubai hub and the Greek island of Corfu on Saturday 24 June. The 3,660-kilometre service will be maintained 2-weekly on Wednesdays and Saturdays with the 737 MAX 8 aircraft until 30 September. It faces no competition on the route.
Flight FZ1077 departs Dubai at 10:00 local time, arriving in Corfu at 14:20 local time. The inbound service, operating as flight FZ1078, takes off from the Greek island at 15:20 local time, touching back down in the United Arab Emirates at 21:30 local time.
What they said
Hamad Obaidalla, Chief Commercial Officer at flydubai, said: "flydubai's seasonal summer routes, alongside its growing network, will enable more people to travel whether for a holiday, business or visiting friends and family. We have added 33% more capacity across our markets and look forward to welcoming passengers on board for busy summer period."
Rodi Kratsa-Tsagaropoulou, Governor of the Ionian Islands Region, added: "The efforts of the Ionian Islands Region paid off and opened a new perspective for our tourism, exports, trade, cultural and business relations, with the dynamic region of the United Arab Emirates - a multicultural society, young in age and high in income."
flydubai now serves three Greek airports
flydubai maintains operations to Greece only on a seasonal summer basis. The addition of Corfu to its network grows its number of destinations in Greece to three, alongside Mykonos and Santorini. The carrier also served the country's second largest city of Thessaloniki back in 2018 but discontinued operations on the route.
European network grows to 28 destinations
flydubai has been growing its seasonal services to Europe this summer to cater for the increasing leisure demand from the United Arab Emirates. In addition to Corfu, the carrier also introduced new summer flights to Olbia in Italy on 22 June.
During the last week of June, the airline restored seasonal operations to other European destinations including Batumi, Bodrum, Dubrovnik, Mykonos, Tivat, Trabzon and Santorini. As a result, the carrier now serves 28 destinations in Europe.