New Route of the Day (24 May 2022): PLAY between Reykjavik KEF and Brussels BRU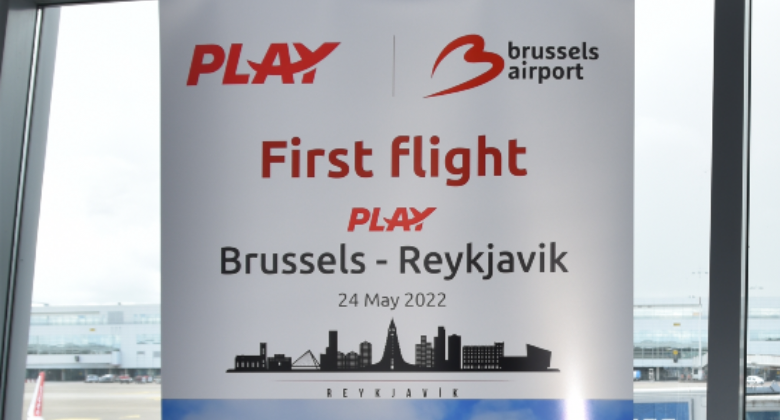 PLAY (IATA code OG) continues to expand its presence across Europe's airports. On Tuesday 24 May Brussels BRU welcomed 3-weekly service from Reykjavik KEF. The two other weekly services on the 2,150-kilometre route will take places on Thursdays and Saturdays using the airline's A321s. A fourth frequency (on Wednesdays) is set to begin on 6 July. Competition on the route will come from Icelandair, which offers a daily service for the rest of the summer, reducing to 4-weekly in October. Brussels was also previously served by WOW air between June 2017 and the airline's collapse in March 2019. Weekly frequency varied between 4-weekly and daily.
PLAY serving over 20 airports this summer; only one route dropped
By mid-August PLAY is expecting to be offering 78-weekly flights from Keflavik to 18 European and three North American destinations. The top five longest routes are Baltimore/Washington (4,445 kilometres), New York SWF (4,109 kilometres), Tenerife TFS (4,019 kilometres), Boston (3,883 kilometres) and Malaga (3,273 kilometres). In terms of weekly frequency, Paris CDG leads the way with 8-weekly flights, while the three US routes are each served daily. Following the launch of the Brussels route, several other new routes are set to begin:
Stavanger: 26 May, 2-weekly
Malaga: 29 May, weekly
Trondheim: 31 May, 2-weekly
Palma de Mallorca: 1 June, weekly
Bologna: 7 June, 2-weekly
New York SWF: 9 June, daily
Madrid: 15 June, 2-weekly
Liverpool: 7 October, 2-weekly
Geneva: 1 February 2023, 2-weekly
Only one route has so far been dropped by the airline after launching. A 2-weekly service to Amsterdam started on 3 December 2021, competing with Icelandair and Transavia. The last flight operated by PLAY between these two airports was on 23 March 2022.
However, two other routes have been put on sale and then suspended before service started. These are Stuttgart in Germany and Orlando MCO in Florida.