New Route of the Day (24 October 2023): World2Fly between Prague and Santa Clara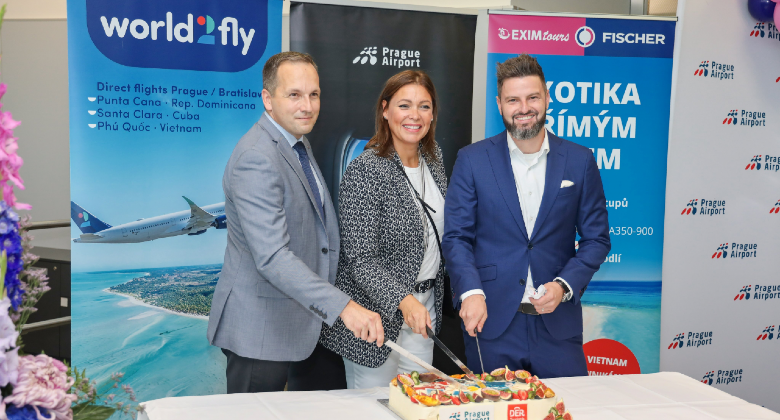 Spanish carrier World2Fly launched a new long-haul leisure service between Prague and Santa Clara in Cuba on Tuesday 24 October. This will be followed by the introduction of flights from the Czech capital to Punta Cana in the Dominical Republic on 25 October and to Phu Quoc Island in Vietnam on 26 October. The 8,412-kilometre service from Prague to Santa Clara, which originates from Bratislava, will run weekly with the 432-seat A350-900 aircraft. The flights are being operated on behalf of two Czech tour operators, which are part of the DER Touristik Group.
Flight 2W8547 departs Prague at 07:30 local time, arriving in Santa Clara at 13:00 local time. The return service, operating as flight 2W8548, takes off from Cuba at 15:30 local time, touching back down in the Czech capital at 06:20 local time the following morning.
What they said
Jiri Pos, Chairman of the Board of Directors at Prague Airport, said: "The new charter flights to distant exotic destinations for the DER Touristik Group confirm that the existing trend of strong outbound tourism travel will continue in the coming years. For Prague Airport, this means the arrival of a new carrier with a new, wide-body and environmentally friendly A350 aircraft and, importantly, the continued expansion of our long-haul network for passengers within the airport's catchment area. Prague Airport already offers more than six dozen holiday destinations in Europe and around the world."
Jirí Jelinek, Chairman of the Board of Directors of the DER Touristik Eastern Europe Group, added: "We took a number of factors into consideration upon choosing a partner for our long-haul flights. We have a brand-new aircraft at our disposal, so I believe the flight itself will be a great experience for clients. Thanks to the aircraft's features, we are also able to offer the best price."
Prague Airport sees strong demand for long-haul leisure travel
There is growing demand for travel options to far-away destinations by Czech travellers. Notably, this segment of outbound tourism has surged to a level that is already 30% above pre-pandemic figures, according to Prague Airport. As a result, the demand for overseas vacations, including long-haul charters, has seen a substantial uptick.
In addition to the new long-haul leisure routes operated by World2Fly, LOT Polish Airlines will base one Dreamliner aircraft in Prague during W23/24, operating charters to six destinations in the Caribbean, Asia, and Africa in collaboration with the Czech Republic's main tour operator.
World2Fly is based in Madrid and is part of the Iberostar Group, the Spanish-based global tourism company and hotel group. The carrier currently boasts a fleet of three A350-900 
aircraft. Its leisure flight program from Prague will run until May of next year.