New Route of the Day (25 June 2022): Qantas between Perth and Rome FCO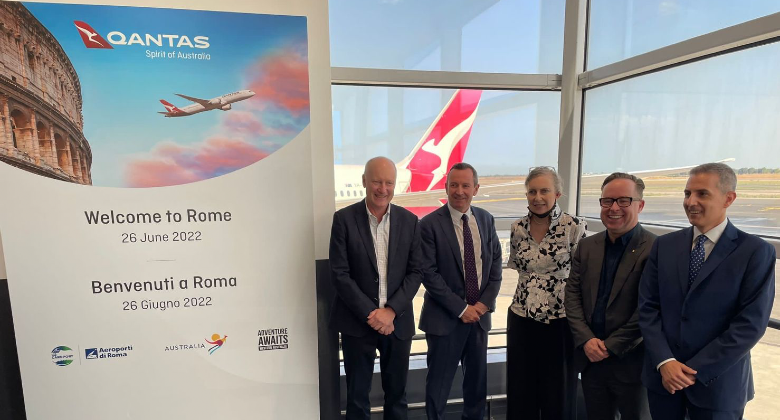 Qantas (IATA code QF) now offers a 3-weekly, non-stop service between Perth and Rome FCO. The inaugural scheduled service (QF 5) departed Australia on Saturday 25 June at 22:50 local time and landed in the Italian capital 15 hours and 35 minutes later at 08:26 (local time) on Sunday 26 June. The return flight (QF 6) left Rome at 11:16 local time the same day arriving back in Australia at 08:25 the following day after a 15 hour and nine minutes flight. The 13,350-kilometre route is being operated by the airline's 787-9s. Curiously, flight tracking data shows that the airline's first flight between the two airports actually took place three days earlier, but this was apparently some sort of promotional service.
London LHR is already served non-stop from Perth on a daily basis, also using the airline's 787-9s. That route was launched in March 2018. Regular operations on this route began again at the end of May after only occasional services during the pandemic according to Cirium schedule data.
What they said
Alan Joyce, Qantas Group Chief Executive Officer, said: "We're seeing an increasing preference for a non-stop flight to and from Australia to make the travel experience as efficient and easy as possible and we expect that will be a permanent shift in the way people want to travel. We saw an incredible rebound in domestic travel as state borders re-opened and we're seeing the same thing now as more countries relax restrictions. Australians are definitely on the move. Our customers are heading overseas to reunite with family and friends, to reconnect business links, and to rediscover the world. Our flights from Perth to London are heavily booked, we've fast-tracked the return of our A380 fleet which will free up our 787s to operate new routes including Melbourne to Dallas, and we're deploying A330's to other new destinations including India and South Korea later this year. Qantas began services from Sydney to Rome in 1948 as part of our seven-stop Kangaroo Route to London, and from the early 1990s we flew our Queen-of-the-skies Boeing 747 twice a week until 2003 when direct services were suspended during the SARS pandemic. Almost 20 years later, we are excited our flight path once again leads to Rome proving it really is the eternal city."