New Route of the Day (25 September 2023): Wizz Air between Vienna and Hurghada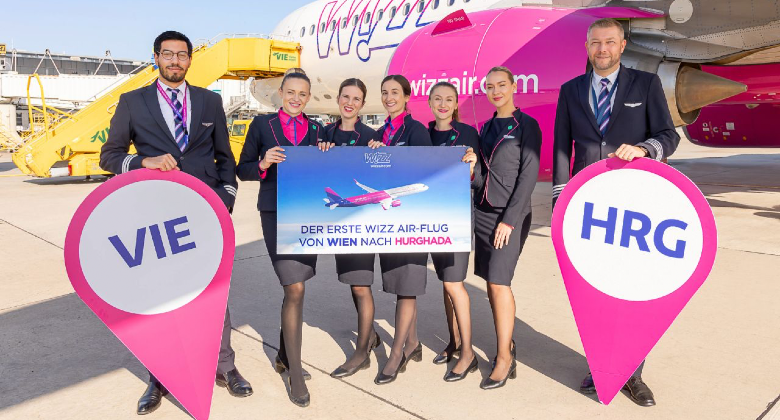 Wizz Air introduced flights between Vienna and Egyptian resort city of Hurghada on Monday September 25. The 2,760-kilometre service will be maintained 2-weekly on Mondays and Fridays with the 239-seat A321neo aircraft. The ULCC will compete directly against Air Cairo's 5-weekly rotations and Corendon Airlines' weekly flight.
Flight W62973 takes off from Vienna at 06:25 local time, arriving in Hurghada at 11:30 local time. The return service, operating as flight W62974, departs the Egyptian city at 12:05 local time, touching back down in the Austrian capital at 15:20 local time.
What they said
Valeria Bogarenco, Corporate Communications Manager at Wizz Air, said: "We are pleased to expand our route network from Vienna to include further holiday and city travel destinations and thus offer our Austrian customers more opportunities to explore new cities and enjoy their holidays. The new route from Vienna to Hurghada will offer Austrian passengers great adventures and unforgettable experiences. At Wizz, we remain committed to offering affordable flight connections to a range of exciting destinations and look forward to welcoming passengers aboard our young and sustainable Airbus fleet."
Wizz Air's dynamic Vienna operations
Wizz Air has launched close to 80 routes out of Vienna since opening its base in the city in 2018, however, only 34 are available now, eleven of which are served seasonally. The carrier's operations out of the Austrian capital have faced many ups and downs, impacted by the pandemic, the war in Ukraine, as well as fierce competition from Ryanair.
The ULCC downsized its Vienna base last year, reallocating two stationed aircraft in the city elsewhere. However, as of this year, Wizz Air has returned to growth in the Austrian capital and in June returned its sixth aircraft, enabling the launch of several new routes including Bilbao, Kuwait City and Hurghada, as well as an increase in frequencies on a number of existing routes.
Notably, Wizz Air operates several destinations in the Middle East and North Africa out of Vienna. In addition to Hurghada and the abovementioned Kuwait City, they include Dammam, Jeddah and Riyadh in Saudi Arabia, as well as Abu Dhabi, Dubai, Tel Aviv and Sharm El-Sheikh.
During the first week of October, Wizz Air boasts 107 departing flights out of Vienna, offering 25,349 outbound seats.