New Route of the Day (26 February 2022): Bamboo Airways between Hanoi and Frankfurt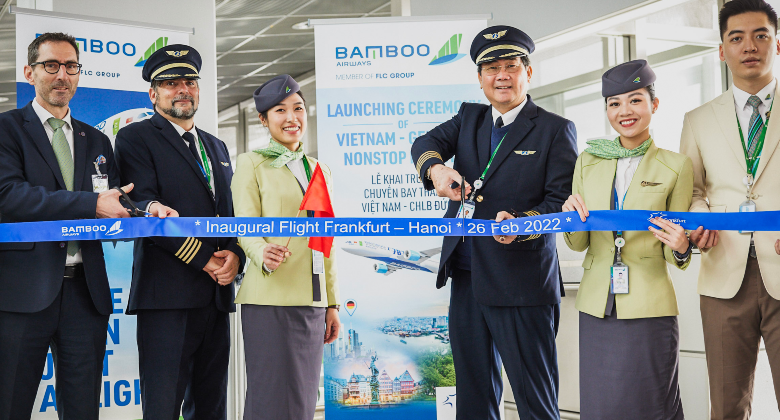 Bamboo Airways (IATA code QH) has started service between Hanoi in Vietnam and Frankfurt, with the first flight (QH 74) departing Germany's busiest airport on Saturday 26 February. The inaugural flight from Hanoi (QH 73) had departed Vietnam at 09:53 local time the previous day and arrived in Germany at 16:25 local time, before spending 22 hours on the ground at the German hub. Service on the 8,730-kilometre route will initially be weekly, increasing to 2-weekly from the end of March. Competition on the route comes from Vietnam Airlines, which also operates the route 2-weekly.
Heathrow service coming soon
Boeing 787-9s, of which Bamboo Airways currently has three, will be used on this new European route. A second European route to London LHR is set to launch on 22 March. Once the summer season begins at the end of March the UK service will operate weekly, departing Hanoi on Sundays at 02:15 local time and arriving in the UK at 10:05 and then departing Heathrow at 12:05 and arriving in Hanoi at 06:30 on Monday mornings.
Air France and Turkish Airlines also operate non-stop to Vietnam
According to Cirium data, there will be 10 non-stop services between Europe and Vietnam in April. Apart from Bamboo Airways's two routes, Air France will serve Ho Chi Minh City from Paris CDG, Turkish Airlines will serve Hanoi and Ho Chi Minh City (both 2-weekly) from Istanbul IST, while Vietnam Airlines plans to serve Hanoi non-stop from Frankfurt, London LHR, Moscow SVO and Paris CDG, as well as Ho Chi Minh City from Frankfurt. All routes will operate either weekly or 2-weekly.