New Route of the Day (26 June 2022): Widerøe between Oslo TRF and Nice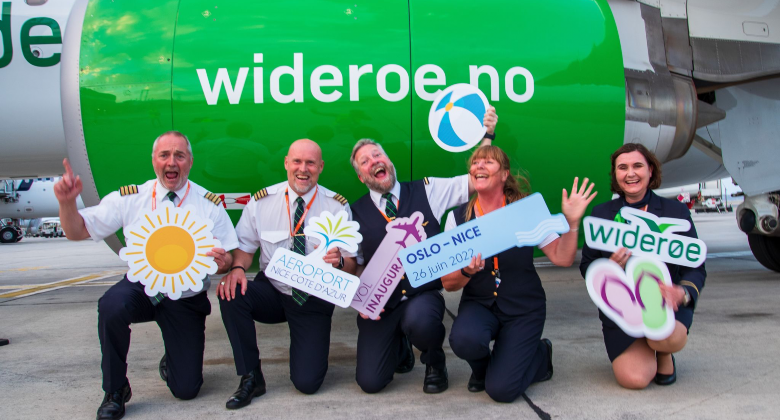 Widerøe (IATA code WF) on Sunday 26 June began 2-weekly service between Oslo TRF and Nice. The 1,740-kilometre route will operate on Wednesdays and Sundays until 14 August according to Cirium schedule data. The service will be flown using the airline's 110-seat Embraer E190-E2s, of which it currently has three, all of which were delivered new in 2018. These are mostly used on the airline's international routes, which this summer comprise the following (weekly frequency in brackets; *indicates flown by Embraer fleet):
Bergen to: Aberdeen (7), Alicante* (3), Billund (2), Faroe Islands (4), Florence* (1, launched 25 June 2022), Gothenburg (5), London LHR* (9), Nice* (3, launched 25 June 2022), Palma de Mallorca* (1, launched 25 June 2022)
Oslo OSL to: Gothenburg (6, but not operating between 25 June and 21 August)
Oslo TRF to: Copenhagen (8), Nice* (2)
Stavanger to: Aberdeen (5)
That makes a total of 56 weekly international departures from Norway. Back in the summer of 2018, Widerøe was offering 100 such departures. This included several routes it no longer operates (weekly frequency in August 2018):
Bergen to: Hamburg (3), Liverpool (2) and Munich (3)
Kristiansand to: Copenhagen (19) and London STN (4)
Torp dominated by ULCCs
Torp Sandefjord Airport (IATA code TRF), located around 110 kilometres south of Oslo, handled 2.07 million passengers in 2019, making it Norway's sixth busiest airport. This summer, Wizz Air is offering flights to 16 destinations from the airport, while Ryanair offers flights to 14 destinations. These two carriers treat the airport as a secondary airport for the Oslo market. Widerøe serves five domestic points as well as two international airports and Norwegian flies 2-weekly to both Alicante and Malaga. KLM is the only flag-carrier at the airport with daily flights to Amsterdam.
Four carriers connect Norway with Nice
Nice has 47-weekly flights from Norway in July, spread across five airports and four airlines (weekly frequency in brackets):
Flyr: from Bergen (2), Oslo OSL (4)
Norwegian: from Bergen (3), Oslo OSL (14), Stavanger (2), Trondheim (2)
SAS: from Oslo (14), Stavanger (1)
Widerøe: from Bergen (3), Oslo TRF (2)