New Route of the Day (26 June 2023): Wizz Air between Prague and Yerevan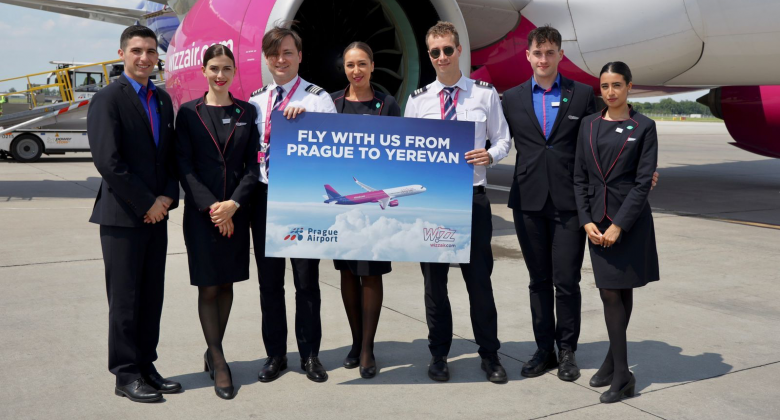 Wizz Air introduced flights between Prague and Yerevan on Monday 26 June, with the 2-weekly service to be maintained on Mondays and Fridays. The ULCC will utilise its A321neo aircraft on the 2,590-kilometre route. It faces no competition on flights between the two capitals.
What they said
Zsuzsa Trubek, Corporate Communications Manager at Wizz Air, said: "We are thrilled to have launched our new route from Prague to Yerevan. This new service will provide greater connectivity between Czechia and Armenia at affordable rates, offering more choice to passengers. We are committed to providing exceptional service and convenience to our passengers, and this new connection reinforces our dedication to expanding our network and meeting the evolving travel demand. We look forward to welcoming travellers on board and providing them with our unique Wizz inflight experience."
Jiri Vyskoc, Executive Director of Prague Airport, said: "The new route to Yerevan has great potential. We believe that it will be interesting not only for tourists from both countries, who will be able to go exploring in summer and winter too, but thanks to easier travel it will also have a positive effect on economic cooperation between the Czech Republic and Armenia."
Wizz Air strengthens Yerevan presence
Wizz Air now serves nine destinations out of Yerevan, however, it does not have a base in the Armenian capital. Since the start of the year, it launched four new routes to the city. In addition to Prague, they include Dortmund, Sofia and Katowice.
Wizz Air initially planned to enter the Armenian market in April 2020. However, this was scrapped as a result of the pandemic. The ULCC finally commenced services to Yerevan in July 2021 by launching flights from Vienna, which was followed by Abu Dhabi, Larnaca, Milan MXP and Rome  FCO in 2022, as well as Venice VCE in early 2023.
Armenia is Europe's second fastest growing market
Yerevan Airport fully recovered from the coronavirus pandemic last year, with the Armenian market currently one of the fastest growing in Europe in terms of passenger numbers, behind only Albania.
In 2022 Yerevan Airport handled over 3.6 million passengers, representing an increase of over 16% on 2019. During the January - May period, the airport welcomed just over 1.85 million travellers, up 57% on the pre-pandemic 2019. As Armenia has not joined EU/US sanctions on Russia, the market continues to be heavily driven by traffic to and from Russia.