New Route of the Day (26 March 2023): Aer Lingus between Knock and London LHR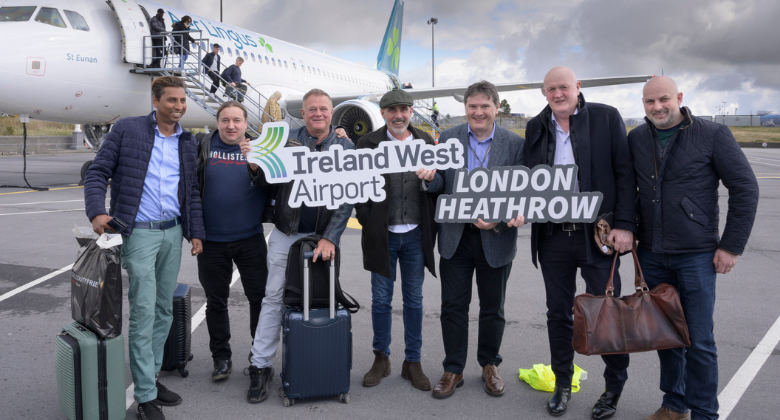 Aer Lingus launched operations between Knock and London LHR, replacing the previously served London LGW, on Sunday 26 March. The 625-kilometre route is maintained daily with A320 aircraft. The Irish carrier faces no competition between the two airports. The move to Heathrow will provide greater connectivity to passengers transferring onto Aer Lingus' IAG partner British Airways.
Flight EI916 departs Knock at 13:05 local time, arriving in London LHR at 14:30. The inbound service, EI915, takes off from London LHR at 11:05 local time, arriving in the Irish city at 12:35.
What they said
Reid Moody, Chief Strategy and Planning Officer at Aer Lingus, said: "Our new route from Knock to London Heathrow, accompanied with further network connectivity for our customers, is exciting for Aer Lingus and for the West of Ireland. With a direct service to one of Europe's busiest airports, customers from the West will now be able to easily connect from Heathrow to destinations right across the globe. The service will also drive inbound tourism at a time when interest in visiting the West of Ireland is very high, with the Oscar nominated Banshees of Inisherin showcasing the beauty of the West of Ireland to millions of people globally."
Joe Gilmore, Managing Director of Ireland West Airport, commented: "The airport is absolutely delighted to welcome the new daily service to London Heathrow with Aer Lingus. This is a major development for the West and Northwest regions as it opens up key onward connectivity, through one of Europe's biggest hubs, to over 80 destinations worldwide. The hub status of Heathrow for businesses to connect with the global marketplace is a potential game changer for this region, and from a tourism perspective the service will deliver a significant increase in tourism visits from all corners of the globe. I have no doubt the service will get huge support from the business community and leisure travellers both here and abroad and we thank Aer Lingus for this strong vote of confidence in the airport and West of Ireland region."
Knock Airport exclusively served by Aer Lingus and Ryanair
Situated in County Mayo, Ireland West Airport Knock is one of six airports in the country to have airline service. Knock ended 2022 with 722,000 passengers, which is 10% below its record best in 2019. The airport has been exclusively served by Aer Lingus and Ryanair since S20 following the end of the original Flybe. This summer, Knock has flights to Germany, Italy, Portugal, Spain and the UK. However, 82% of its flights are to the UK, with services to nine airports.