New Route of the Day (26 March 2023): SWISS between Geneva and Hamburg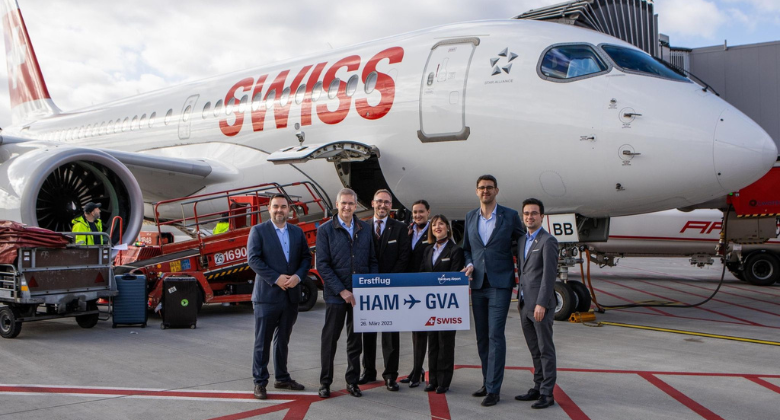 SWISS (IATA code LX) on Sunday 26 March introduced a new non-stop service between Geneva and Hamburg in northern Germany. The 870-kilometre route will be flown 4-weekly (on Mondays, Wednesdays, Fridays and Sundays) using the carrier's A220-300s. No other carrier currently connects these two airports. Pre-pandemic, the route had been served by easyJet between December 2006 and March 2020. The two airports were also previously connected by germanwings/Eurowings (between October 2013 and May 2017).
In addition to Hamburg, SWISS also launched a second new route from Geneva on 26 March. It now serves the 820-kilometre route to Vienna in Austria with up to 3-daily flights. SWISS replaces Austrian Airlines on the route, at least during the summer season, with the Austrian flag-carrier and fellow Lufthansa Group member set to take over the route once more at the end of October. This is another route that easyJet has served in the past.
Many routes added and dropped versus 2019
This summer SWISS will be offering non-stop service to almost 50 destinations from Geneva. According to Cirium data, routes added since S19 include Antalya, Brussels, Djerba, Funchal, Kos, Rhodes, Santorini and Stockholm ARN, as well as the already mentioned Hamburg and Vienna. Routes that were operated by SWISS in S19 but are not bookable this summer are Ajaccio (served by easyJet), Barcelona (served by easyJet and Vueling), Calvi (served by easyJet), Madrid (served by Iberia), Moscow DME (no longer served), Munich (served by Lufthansa), Prague (served by easyJet and Eurowings), Pula (no longer served) and Toulon (no longer served).