New Route of the Day (26 September 2022): Wizz Air between Rome FCO and Turku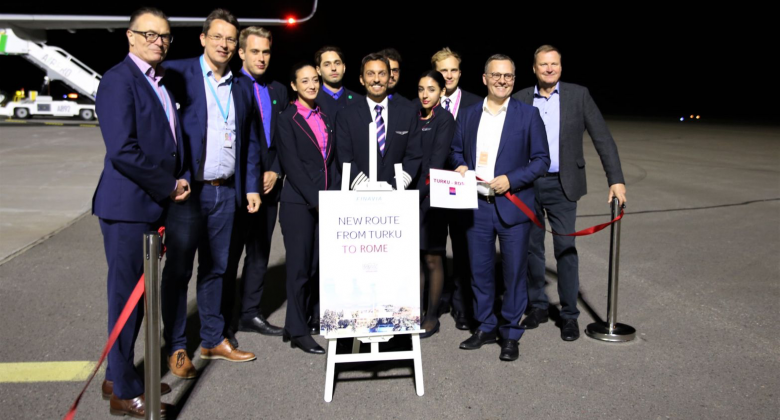 Wizz Air has added Turku in Finland to its network from Rome FCO. The 2,190-kilometre route launched on Monday 26 September. The service will operate 2-weekly with flights on Mondays and Fridays. Turku does not appear to have had a regular, scheduled service to the Italian capital before.
This becomes Wizz Air's third route at the airport as it already operates 5-weekly year-round service to Gdansk in Poland (launched in April 2008) and Skopje in North Macedonia (launched in July 2019, seasonal route, resuming on 28 March 2023). It has also previously served Turku from its bases in Budapest, Kaunas, Krakow, London LTN and Warsaw WAW.
Turku is one of several new routes that Wizz Air is launching from Rome FCO this week. Other new routes include Yerevan (26 September), Dortmund (27 September), Dammam and Marrakech (both 28 September) and Lyon (29 September). The airline recently announced several more new routes from Rome including Barcelona, Porto and Valencia starting before the end of the year, and Gothenburg, Malaga, Paris ORY and Seville all starting next April.
Finland's fourth busiest airport in 2019
Turku, in the south-west of Finland, is home to around 200,000 people. The airport, operated by Finavia, handled 453,000 passengers in 2019 making it Finland's fourth busiest airport that year, behind Helsinki (21.86m), Oulu (1.06m) and Rovaniemi (661,000).
According to Cirium data, apart from Wizz Air's two routes, the other scheduled services at the airport in October are:
airBaltic: to Riga (4-weekly with A220-300s)
Finnair: to Helsinki (6-weekly with ATR 72s operated by Nordic Regional)
NyxAir: to Mariehamn (5-weekly with Saab 340s)
Pre-pandemic, Finnair was operating up to 4-daily flights on the 150-kilometre route to Helsinki, while SAS was offering up to 4-daily flights to Stockholm ARN. SAS flights will return to Turku on 30 October. Stockholm will then be served 12-weekly using ATR 72s operated by Regional Jet.