New Route of the Day (26 September 2023): Wizz Air between Belgrade and Milan BGY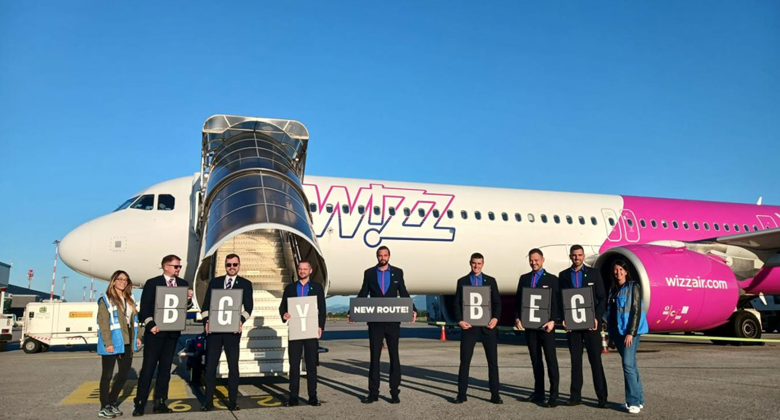 Wizz Air introduced flights between its Belgrade base and Milan BGY on Tuesday 26 September. The new 840-kilometre service will be maintained 5-weekly on Tuesdays, Wednesdays, Thursdays, Saturdays and Sundays with the 230-seat A321 aircraft. The ULCC faces no direct competition on the route, however, Air Serbia maintains 8-weekly flights to Milan MXP.
Wizz Air completes Belgrade expansion
Wizz Air based its fourth A321 aircraft in Belgrade this summer, resulting in the introduction of five new routes. In addition to Milan BGY, they include Zakynthos, Berlin, Copenhagen, and Lisbon, with the latter three served by Air Serbia as well. Furthermore, the carrier has increased frequencies across its Belgrade network, which now counts a total of 24 routes, two of which are seasonal.
Wizz Air will increase its operations out of Belgrade during W23/24 by adding more frequencies across the network. The ULCC has 946,688 seats on sale on its Belgrade operations during W23/24, up 104% on the previous winter, or an additional 482,622 seats. The airline is Belgrade's second-largest carrier by the number of flights, capacity and passengers handled, behind only Air Serbia.
Wizz Air is Milan BGY's second-largest airline
Wizz Air launched operations from Milan BGY in 2004 and is now the airport's second-largest airline, both in terms of flights and passengers handled. It now serves five countries from Milan BGY including Albania, Bulgaria, Poland and Romania, in addition to Serbia. Six out of the ten destinations operated out of the airport are in Romania.
Over 12 million passengers have flown with Wizz Air through Milan BGY over the last 19 years. During W23/24, the ULCC will offer 34,000 departing seats from the airport.