New Route of the Day (27 April 2023): Aer Lingus between Dublin and Liverpool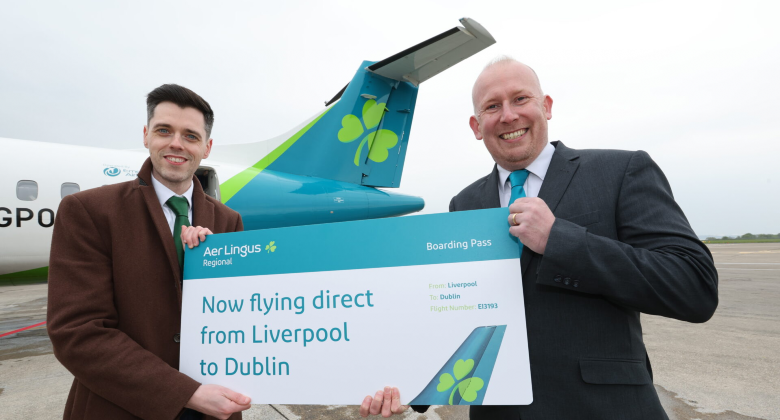 Aer Lingus introduced flights between Dublin and Liverpool on Thursday 27 April, making its third attempt at the route. The 225-kilometre service will be maintained by Emerald Airlines on Aer Lingus' behalf under the Aer Lingus Regional brand. Flights will run 11-weekly on the 72-seat ATR 72 turboprop aircraft. Aer Lingus faces strong competition against Ryanair's 35-weekly rotations, which are maintained by 737 aircraft. Aer Lingus is primarily targeting North America transfer passengers with its new Liverpool service.
What they said
Paul Winfield, Director of Aviation Development for Liverpool Airport, said: "It's great to see the increased connectivity to North America that these new Aer Lingus flights bring. Well timed connections via Dublin to New York JFK, Washington, Chicago, Boston and Philadelphia plus transfer times on outbound and return journeys averaging 2 hours, means that the region's travellers can take advantage of even more opportunities of flying to the US from Liverpool."
Ciaran Smith, Head of Commercial at Emerald Airlines, added: "Not only will this new service provide convenient travel options between Liverpool and Dublin, but it also opens a gateway to North America on the wider Aer Lingus network. With the added convenience of pre-clearance in Dublin, this allows passengers to enjoy a seamless onward journey to the US. We look forward to working alongside our partners at Liverpool Airport to make this route a success!"
Dublin among Liverpool's busiest routes
According to data by the UK's Civil Aviation Authority, Dublin was among Liverpool's busiest routes last year. A total of 338,200 passengers travelled between the two cities in 2022.
The Irish flag carrier is hopeful third time's a charm with its Dublin to Liverpool service. It last maintained flights between the two in 2016. Due to Ryanair's high volume of frequencies on the route, there will be an average of between six and eight flights per day between Dublin and Liverpool during S23. With over 7,500 departing seats per week.