New Route of the Day (27 August 2023): Beijing Capital Airlines between Hangzhou and Madrid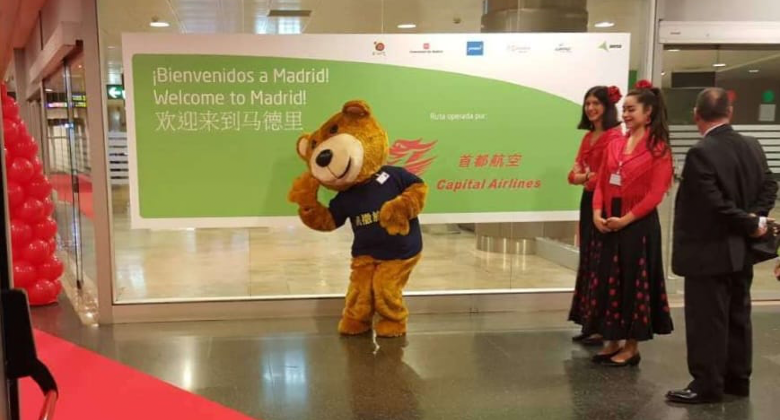 Beijing Capital Airlines launched flights between Hangzhou, in eastern China, and Madrid on Sunday 27 August. The 10,290-kilometre service will be maintained 2-weekly on Wednesdays and Sundays with the 255-seat A330-200 aircraft. It faces no competition on the route.
Flight JD361 departs Hangzhou at 23:55 local time, arriving in Madrid at 08:25 local time the following morning. The return service, operating as flight JD362, takes off from the Spanish capital at 12:30 local time on Mondays and Thursdays, touching back down in the Chinese city at 07:55 local time the following morning.
Route resumes after seven years
Beijing Capital Airlines last operated flights between Hangzhou and Madrid in December 2016. It had launched the 2-weekly service a year earlier, in December 2015. The carrier is a subsidiary of the large HNA Group, which owns a dozen airlines in China, the largest and most internationally recognisable of which is Hainan Airlines.
Madrid becomes Beijing Capital Airlines' second European destination out of Hangzhou, the other being Lisbon. Hangzhou is one of China's busiest airports, handling over 20 million passengers last year. Prior to the pandemic, it welcomed over 35 million passengers per year. It recently opened a new fourth terminal as the city prepares to play host to the Asian Games. Pre-pandemic passenger figures are likely to be exceeded this year.
The Hangzhou - Madrid service marks Beijing Capital Airlines' return to the Spanish capital. Prior to the pandemic, it served the city from Chengdu.
Fourth Chinese carrier serving Madrid
Beijing Capital Airlines is the latest to join a line-up of Chinese carriers already serving the city. They include Air China, which maintains services from Beijing PEK, Hainan Airlines with flights from Chongqing, as well as China Eastern Airlines which serves Madrid from Shanghai PVG.
Spain saw a 420% surge in Chinese tourists during H1 2023, compared to the same period last year. Prior to the pandemic, some 700,000 Chinese tourists visited the country on an annual basis.
Madrid's China capacity nears pre-pandemic levels
The number of flights between China and Spain have now reached 60% of 2019 levels, while a full recovery is expected next year. However, Madrid is fairing much better compared to other cities in the country in respect to flights to China. This September, the Spanish capital has a total of 19,351 departing seats to China, which is at 95% of 2019 levels, according to Cirium schedules data. The only carrier that has not restored flights between the two markets is Iberia. The airline operated between Madrid and Shanghai PVG in 2019, however, the inability to fly into Russian airspace, which significantly increases costs on Asia-bound flights, remains a deterrent for the Spanish carrier.