New Route of the Day (27 June 2022): easyJet between Manchester and Inverness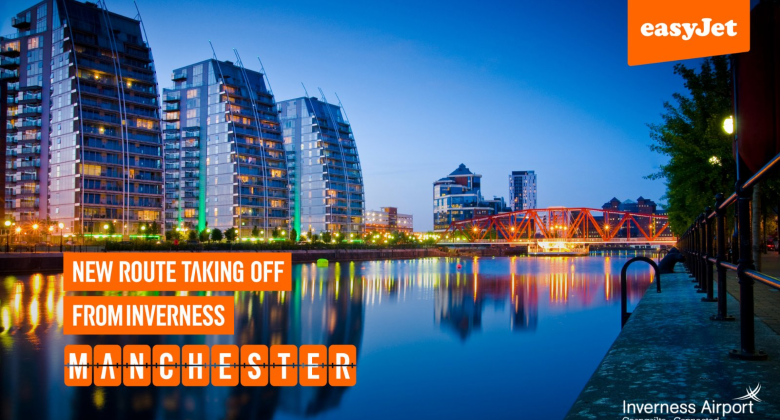 easyJet launched a new domestic route in the UK on Monday 27 June. It is now offering 3-weekly flights on the 480-kilometre route between Manchester and Inverness in Scotland. According to the airline's website, services operate on Mondays, Fridays and Sundays until 13 October when a Thursday service is (briefly) added, before the service ends on 28 October. Flights then resume on 26 March 2023. Competition on the route comes from Loganair which offers 11-weekly flights using its 49-seat ERJ-145s.
For many years Eastern Airways operated at least daily flights between the two airports until Flybe chose to enter the market in May 2008. From September 2015, Loganair started operating the route on behalf of Flybe. On 1 September 2017, Loganair started operating the route independently. Cirium data shows that Jersey-based Blue Islands briefly served the market in November and December 2020 with its ATR 42s.
easyJet drops two Inverness routes started last summer
This is easyJet's fourth current route to Inverness, as it already serves the Scottish airport from Bristol (5-weekly, launched July 2005), London LGW (17-weekly, launched February 2003) and London LTN (11-weekly, launched November 1996). Last summer easyJet started service to Inverness from both Belfast BFS (2-weekly between 2 July and 3 September) and Newquay (2-weekly between 11 July and 12 September). Neither of these routes have resumed this summer.
Manchester network sees nine new routes this summer
Manchester is one of several airports where easyJet has cut July flights during the last week. Cirium data shows that this week it is planning to operate 326 flights out of Manchester during the week commencing Monday 11 July. The previous week it was still planning 340 flights from the airport for that week. This means it has cut just over 4% of its Manchester flights less than two weeks before they were supposed to operate.
The 14 cut flights were spread across 10 routes. Two weekly flights were cut from Basel, Belfast BFS, Geneva and Paris CDG, while a single weekly frequency was cut from Alicante, Athens, Barcelona, Inverness (it was supposed to operate 4-weekly initially), Munich and Rome FCO. Interestingly, earlier this week the airline announced that its Chief Operating Officer, Peter Bellew, had resigned on 1 July. This follows the resignation in early April of Manchester Airport's Managing Director, Karen Smart, after the airport had some high-profile operational problems.
Despite these issues, Inverness is just one of nine new easyJet routes from Manchester launched this summer, (weekly frequency in brackets):
27 March: Rome FCO (3)
28 March: Enfidha (2)
29 March: Naples (3)
3 May: Zakynthos (2)
4 May: Rhodes (3)
27 June: Inverness (3)
28 June: Chania (2)
1 July: Bourgas (3)
3 July: La Rochelle (2)
However, the following destinations served by the airline from Manchester in August 2019 are not being served this summer: Bari, Bastia, Budapest, Genoa, Granada, Hamburg, Jerez, Kalamata, Krakow, Marseille and Vienna.