New Route of the Day (27 May 2022): LOT Polish Airlines between Warsaw and Baku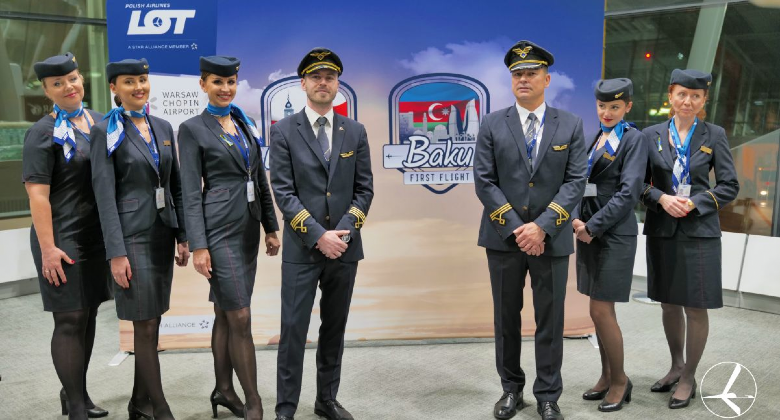 LOT Polish Airlines now offers non-stop service to Azerbaijan. On Friday 27 May the Polish flag-carrier introduced 4-weekly service between Warsaw WAW and Baku using a mix of 737-800s and newer 737 MAX 8s according to Cirium data. The 2,565-kilometre route is not served by any other carrier at present. Flights depart the Polish capital on Tuesdays, Wednesdays, Fridays and Saturdays. This appears to be the first time the two countries have been connected by non-stop service.
On Wednesdays and Sundays, flight LO719 departs Warsaw at 20:45 local time, arriving in Baku four hours and 10 minutes later at 02:55 the following morning (local time). The return flight (LO720) departs Baku at 03:45, arriving back in Warsaw at 06:15 local time, after a flight of four hours and 30 minutes. On Tuesdays and Fridays, flight LO721 leaves the Polish hub at 23:00, with a scheduled arrival time of 05:10 the following day in Baku. Departure from Baku (with LOT722) is at 06:00, with flights expected to return to Warsaw at 08:30.
Completes missing Caucasus link
This new route means that LOT now serves all three Caucasus countries. It already served Armenia (daily flights to Yerevan, including two flights each week using 787-8s) and Georgia (daily flights to Tbilisi). LOT becomes the third European member of the Star Alliance to fly non-stop to Baku. Turkish Airlines has 4-daily flights from Istanbul IST as well as 6-weekly service from Istanbul SAW, and 4-weekly service from both Ankara and Antalya. Lufthansa has 5-weekly service from Frankfurt.
What they said
Rafał Milczarski, President of the Management Board, LOT Polish Airlines, said: "This year, we celebrate the 30th anniversary of the establishment of diplomatic relations with Azerbaijan. I am all the more pleased to announce the launch of the route to Baku. I firmly believe that direct connection will contribute to the further promotion of Polish heritage in Azerbaijan and the strengthening of relations between the two countries. And the legacy of Polish architects in Azerbaijan, in turn, with its beautiful monuments, will enchant tourists from Poland. You are welcome on board!"