New Route of the Day (27 May 2023): Air Dolomiti between Munich and Jersey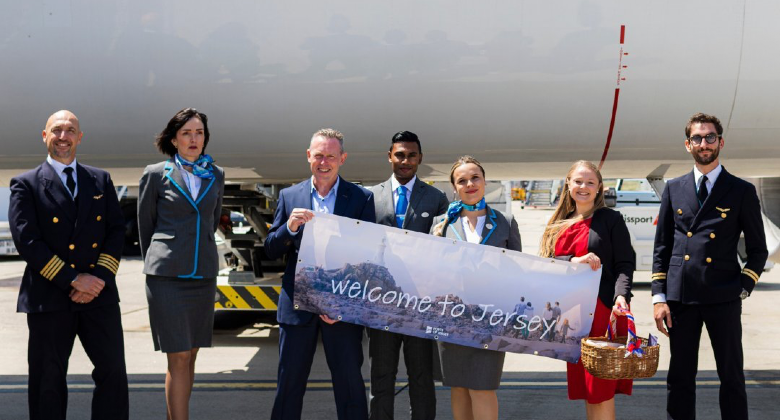 Air Dolomiti (IATA code EN), a wholly-owned Italian subsidiary of Lufthansa, launched seasonal flights between Munich and Jersey on Saturday 27 May. The airline has taken over the route from its parent company. Previously, Lufthansa maintained the service with Air Dolomiti equipment, but now the flights are being operated exclusively by the Italian subsidiary. The 1,030-kilometre route will run weekly with the 120-seat E195 aircraft. Air Dolomiti faces no competition between the two airports.
Flight EN8350 departs Munich at 11:50 local time, arriving in Jersey at 12:50 local time. The return service, operating as EN8351, takes off from the island at 13:30 local time, touching down back in the Bavarian capital at 16:15 local time.
What they said
Matt Thomas, CEO of Ports of Jersey, said: "This time of year is always exciting as we welcome our seasonal routes to Jersey, and Air Dolomiti is especially welcome this year as they take on the Jersey-Munich route under their own name. This is an important route, connecting Jersey with Germany throughout the summer season. It's important that we attract visitors from Europe as well as from the UK, as tourism plays a critical role for the island.  It employs people, supports the hospitality sector, and contributes to the economy. Without incoming visitors we would not be able to retain the wide variety of air and sea routes we have become accustomed to. We look forward to many successful years of collaboration with Air Dolomiti as they develop their Jersey route."
Kirsten Morel, Minister for Economic Development, Tourism, Sport and Culture in the Jersey Government, added: "I'm delighted with the return of the Jersey-Munich route, which brings many holidaymakers from Europe to our unique island during the summer months. It's important that we continue to maintain and develop our links with Europe, as greater connectivity offers a welcome boost, not only to our hospitality industry, but also our wider economy."
Air Dolomiti grows capacity by over 20%
Based in Verona, Air Dolomiti's focus has been on routes between Lufthansa's hubs at Frankfurt and Munich, as well as Italy. Most recently it has taken over some of Lufthansa's services from Germany, with Jersey being the latest example. In the second quarter of 2023, Air Dolomiti's capacity for its own branded flights is set to be 23% higher than it was in pre-pandemic 2019 Q2. That is set to increase to 30% in the third quarter of this year.
Air Dolomiti currently has a fleet of 19 active aircraft comprising of 17 E195s and two 100-seat E190s. The latter two have been taken over from Lufthansa, with additional units expected to be transferred from its parent company in the coming period.