New Route of the Day (27 May 2023): British Airways between London LGW and Montpellier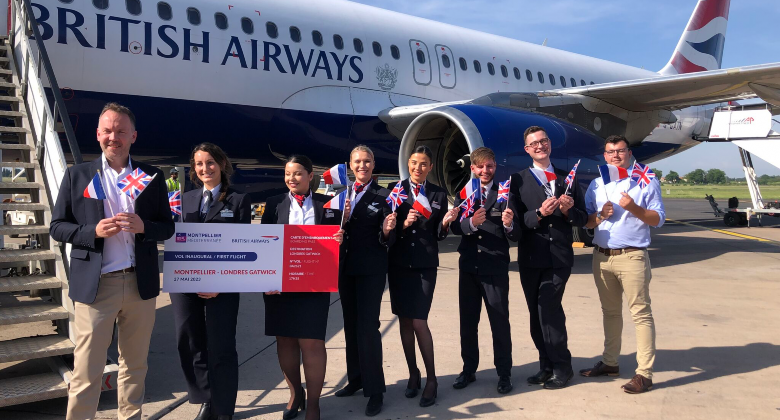 British Airways commenced flights between London LGW and Montpellier on Saturday 27 May, through its BA Euroflyer subsidiary, marking the British carrier's return on the route for the first time since 2007. The 900-kilometre service will be maintained 3-weekly on Tuesdays, Thursdays and Saturdays using the A320 aircraft. British Airways will face direct competition from easyJet which operates 10-weekly flights between the two airports.
What they said
Emmanuel Brehmer, Chairman of the Management Board at Montpellier Airport, said: "There is no doubt that British Airways, via its Euroflyer subsidiary, will attract residents from Montpellier and Occitanie to enjoy a London city break. Furthermore, they can travel even further because there are numerous connections through London in both directions. In addition, we know that we can attract many British tourists through this route."
Tom Stoddart, CEO of BA Euroflyer, said: "It is exciting to see our short-haul schedule at Gatwick grow. This additional route will suit all manner of travellers. We have something for everyone departing from London Gatwick."
Montpellier is one of France's fastest recovering airports
Montpellier was one of the fastest recovering French airports for the second year running in 2022, when it welcomed more than 1.7 million passengers – just 9% fewer than before the pandemic. Driving the recovery is a mix of inbound and outbound passengers, most of who travel for VFR (45%), leisure (35%), or business (20%).
During S23, a total of 34 airports in 15 countries will be linked to Montpellier, including three new destinations: Frankfurt (with Eurowings), and Tangier and Oujda with Air Arabia Maroc. Overall, seat capacity this summer is forecast to be comparable to the summer of 2019. By the end of the year, Montpellier Airport expects more than 1.8 million passengers to have passed through its terminals.