New Route of the Day (27 September 2022): Wizz Air between Rome FCO and Dortmund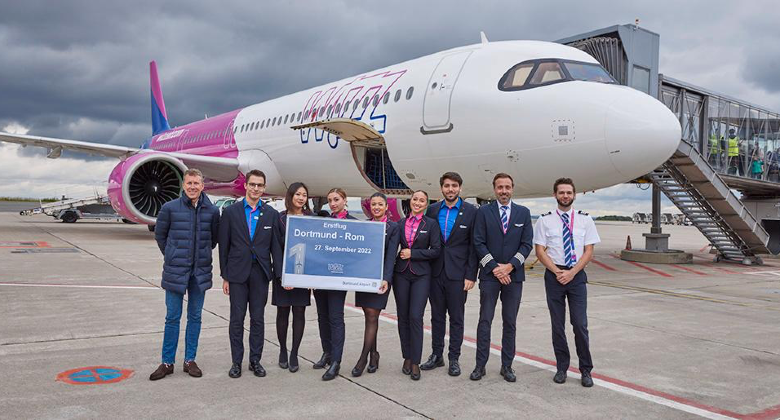 Wizz Air has connected two of its western European bases by launching service between Rome FCO and Dortmund. The first flight was on Tuesday 27 September. There will be 4-weekly flights on Tuesdays, Thursdays, Saturdays and Sundays, at least until the end of October when the Sunday service is dropped. From the end of March until early June flights will operate on Mondays, Wednesdays and Fridays. Flights are currently bookable until 9 June.
The two cities were previously connected by easyJet between July 2004 and October 2008, when the airline operated flights from its Dortmund base to Rome CIA. easyJet closed its Dortmund base in October 2008. It continued operating five routes (Barcelona, Budapest, London LTN, Palma de Mallorca and Thessaloniki) from the German airport until the end of summer 2012, after which only the London LTN route remained. This route (popular with the author for visiting German relatives) has not been resumed since the start of the pandemic.
Over 60 routes launched from Dortmund
Wizz Air has been serving Dortmund since July 2004 and for well over a decade operated many routes to various destinations in Central and Eastern Europe. In August 2020 it made the airport a designated base, enabling it to expand its network to more western European destinations, such as Athens, Lisbon and holiday destinations in Greece.
According to Cirium data, Wizz Air was operating non-stop flights to 28 airports from Dortmund this summer, including one new route to Balaton in Hungary. In total, Wizz Air has offered flights from Dortmund to some 60 destinations in the last 18 years. This includes several destinations in Italy, notably Alghero, Bari, Catania and Naples. Of these, only the Catania route is still being operated.