New Route of the Day (29 January 2022): Transavia between Lyon and Stockholm ARN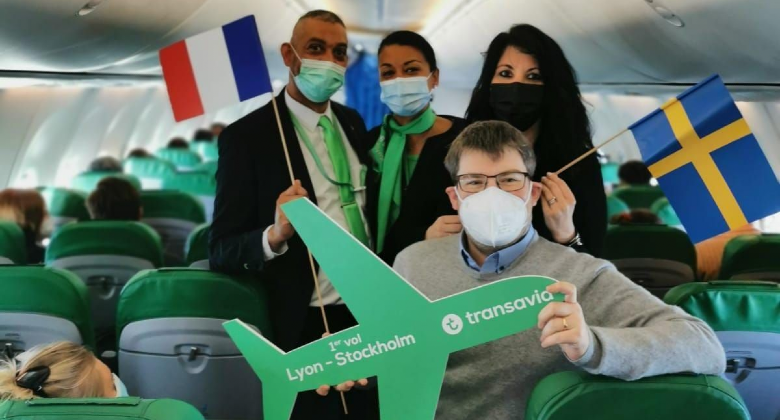 Transavia (IATA code TO) continues to develop its international network from French regional airports with the latest new route being between Lyon and Stockholm ARN. A weekly (Saturday) service began on 29 January and is set to operate until 16 April 2022. The fact that the route is not operating during the summer suggests that the service is aimed at the inbound ski market. The 1,770-kilometre route is not currently served by any other carrier.
The two airports were previously connected by SAS with 2-weekly service between March 2004 and October 2004. More recently, easyJet operated 2-weekly winter seasonal flights in W16/17 and W17/18.
Transavia now offering flights to 30 destinations from Lyon
Transavia began operating flights from Lyon in 2010, initially to Djerba in Tunisia, Heraklion in Greece and Monastir in Tunisia. Since then, it has gradually expanded its network so that this summer some 30 destinations are bookable from Lyon on the airline's website. According to Cirium data, Transavia is set to operate 111 flights from Lyon in February, about 5% of the airport's total. Air France with 645 flights and easyJet with 606 between them account for around 55% of all flights at Lyon.
Transavia's monthly flights from Lyon are set to double to over 220 by August, at which point the airline will account for around 7% of the airport's flights. The leading routes for Transavia in terms of weekly frequency are then expected to be Porto (served daily), Tunis (5-weekly), Heraklion and Marrakech (both 4-weekly). There will be services to nine countries with Morocco welcoming 11 flights each week, followed by Portugal and Tunisia (nine each), Greece (eight), Algeria (four), Spain (three), Israel, Italy and Lebanon (two each).