New Route of the Day (29 March 2023): Air Greenland between Kangerlussuaq and Billund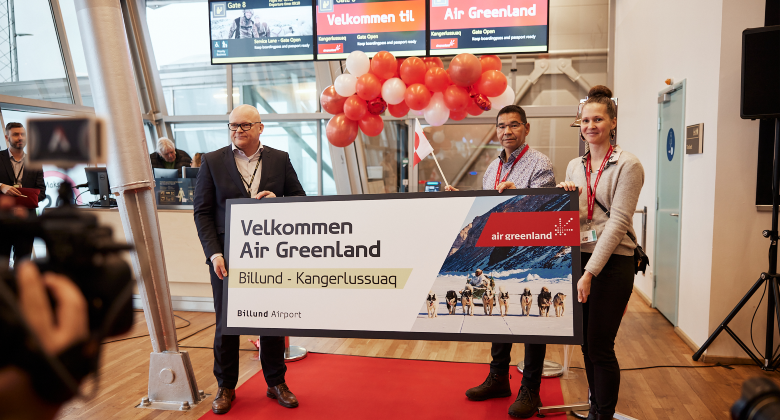 Air Greenland (IATA code GL) added its second destination in mainland Europe on Wednesday 29 March by launching flights between its international hub in Kangerlussuaq and Billund in West Denmark. The 3,280-kilometre service will be maintained weekly on a seasonal summer basis, until 11 October, with a wet-leased 737-800 from Danish charter airline Jettime. There is no competition on the route.
Flight GL766 departs Kangerlussuaq at 11:55 local time, arriving in Billund at 20:05. The return journey, operating as flight GL765, departs the Danish airport at 09:10 local time, arriving in Kangerlussuaq at 09:40 local time.
What they said
Henrik Soe, Commercial Director at Air Greenland, said: "Based on discussions with travel agents and analysis of customer travel patterns, Air Greenland has assessed that a route from Greenland to Western Denmark will provide a better product. With the establishment of the route, the total travel time will be shortened and many customers will be able to avoid overnight stays when travelling to and from Greenland."
Jan Hessellund, CEO of Billund Airport, noted: "It is fantastic news that Air Greenland has chosen to open a route to Billund Airport. It will be a successful route because our area has a large base to fill the planes. Many Greenlanders live in our catchment area, but there are also many who have other connections there – or just want to visit and experience the beautiful scenery. So, this is a very attractive route that we are proud to present together with Air Greenland."
Air Greenland expands European flight offer
Greenland is an autonomous territory within Denmark. As a result, Air Greenland now maintains flights to two cities on the European mainland, both of which are in Denmark. In addition to Billund, the carrier runs 5-weekly rotations on its flagship service from Kangerlussuaq to Copenhagen with its new A330-800 aircraft.
The airline's only international destination, and its third in Europe, is Reykjavik in Iceland. The rest of its network consists of domestic services, linking regional centres across the vast island of Greenland. Although Nuuk is the capital of the autonomous territory, its airport is unable to handle larger aircraft, resulting in Air Greenland only serving domestic destinations and Reykjavik from the city.