New Route of the Day (29 May 2022): Flybe between London LHR and Amsterdam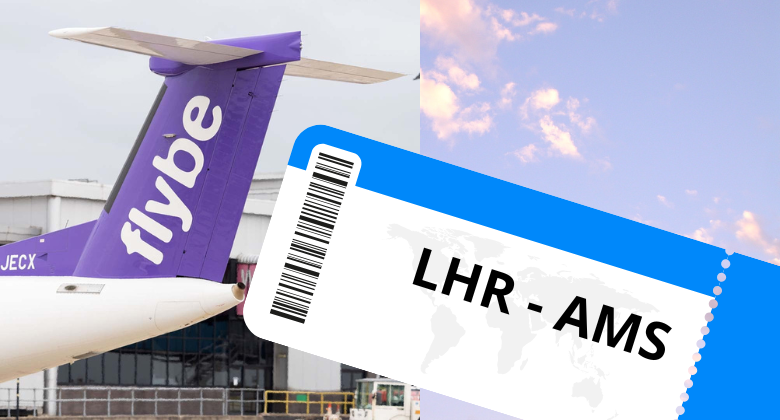 The reborn Flybe is going head-to-head against British Airways and KLM on one of Europe's busiest international routes. On 29 May the now Birmingham-based regional airline started 12-weekly service between London LHR and Amsterdam using its 78-seat Q400s. In 2018 and 2019 this route welcomed around 1.75 million passengers according to UK CAA data. This made it the fourth busiest route from the UK after Heathrow-JFK (3.19m), Heathrow-Dubai (2.33m) and Heathrow-Dublin (1.86m).
Flybe will offer two daily flights each day (except Saturday) on the 380-kilometre route. British Airways is currently offering 44-weekly flights, but this is set to increase to 61-weekly by the end of the year, based on current schedule data. The UK flag-carrier uses the full range of its narrowbody A320-series aircraft on the route. KLM is currently offering 65-weekly flights on the route using a mix of 186-seat 737-800s and 132-seat E195s.
Third Heathrow route for Flybe
The new Flybe began operating from Heathrow on 28 April from Belfast BHD (now 14-weekly) and Leeds Bradford (currently 17-weekly). The only other carrier to currently operate turboprops from Heathrow is Loganair, which operates daily from the Isle Of Man with ATR 72s. As neither Amsterdam nor Heathrow are bases for Flybe, the route is operated as part of a 'W' pattern. The current schedule appears to use a Belfast BHD based aircraft which operates BHD-AMS-LHR-AMS during the afternoon and evening and then night-stops in Amsterdam. The following morning it operates AMS-LHR-AMS-BHD.
Price comparison
With fewer flights and smaller aircraft, the airline needs to be competitive on price. Looking at the longest possible day return fares from Heathrow to Amsterdam on all three carriers for Friday 10 June (as of Tuesday 7 June), reveals the following:
British Airways (Economy Basic): £348.97 return fare
Flybe (Flybe Lite): £316.75 return fare
KLM (Economy): £515.97 return fare
If all this seems a little expensive, easyJet is offering day return flights to Amsterdam from Luton on the same day for just £160.