New Route of the Day (29 May 2023): Royal Jordanian between Amman and Stockholm ARN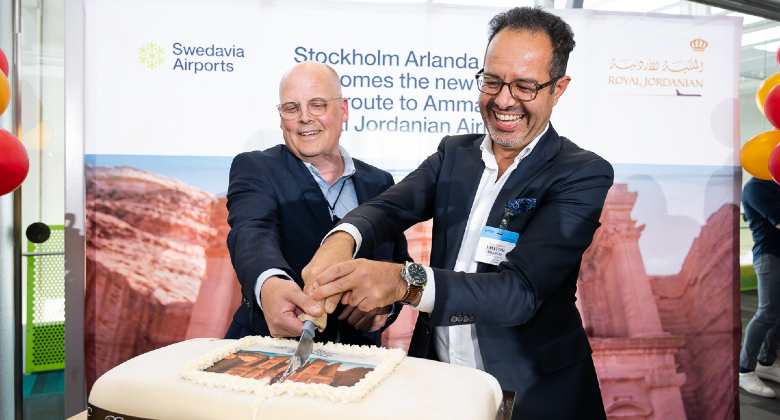 Royal Jordanian introduced a new European destination to its growing network with the introduction of flights between its hub in Amman and Stockholm ARN on Monday 29 May. The 3,385-kilometre route will be maintained 2-weekly on Mondays and Thursdays with the 150-seat A320 aircraft. The new service effectively replaces Copenhagen, which the carrier previously served in Scandinavia. The Oneworld member faces no competition on the new route.
Flight RJ123 departs Amman at 11:00 local time, arriving in Stockholm ARN at 15:15 local time. The inbound service, operating as RJ124, takes off from the Swedish capital at 16:15 local time, touching back down in Jordan at 22:00 local time.
What they said
Karim Makhlouf, Chief Commercial Officer at Royal Jordanian, said: "It is my great pleasure to announce our new route to Stockholm, Sweden, which will make it easier than ever for tourists from Northern Europe and especially from Sweden to discover Jordan's incredible wonders. Helping to promote and drive tourism to the Kingdom is a key focus of our new strategy – as is our emphasis on further developing Amman as the primary gateway to the Levant, by offering improved connectivity to our broader network. This newest route is yet another step in line with RJ's ambitious five-year growth plan, which includes increasing our current fleet of 24 aircraft to more than 40 aircraft in the coming three to five years."
Elizabeth Axtelius, Director of Aviation Business at airport operator Swedavia, added, "We want to welcome Royal Jordanian Airlines to Sweden and Swedavia Airports with the new route to Amman. The route will be an addition to the existing offer of routes available at Arlanda and it is evident that there is demand from travellers who wish to visit their friends and family in the Middle East, as well as from tourists who wish to discover something new."
Royal Jordanian targets transfer passengers
Royal Jordanian is targeting transfer passengers on its new Stockholm ARN route, primarily from other markets in the Middle East which have sizable diaspora communities in Sweden. These include Lebanon and Iraq. Before the pandemic, increased demand was noted for flights between Amman and Stockholm to visit relatives and friends, but there is also growing interest in Jordan as a tourist destination.
Royal Jordanian begins ambitious expansion
This year, Royal Jordanian plans to expand its operations with the introduction of a number of new routes. In Europe, the carrier already added Antalya and Trabzon in Turkey to its network this April, while flights to Dusseldorf will commence on 23 September and to Brussels on 26 October.
Manama in Bahrain will be back on Royal Jordanian's route map after 19 years on 22 June, while services to Al-Ula in Saudi Arabia will commence in September.
The network growth is part of the airline's five-year plan to position itself as the main carrier in the Levant region by offering numerous transfer opportunities, which will be accompanied by the almost doubling of the carrier's fleet size from the current 24 aircraft to more than 40.