New Route of the Day (29 October 2022): Bamboo Airways between Hanoi and London LGW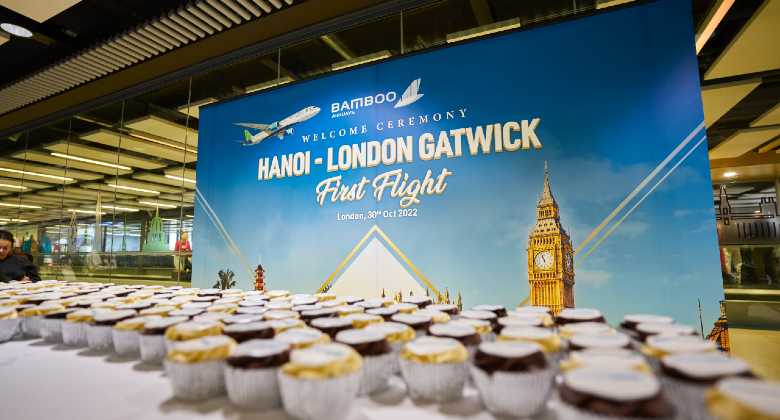 Vietnam's Bamboo Airways (IATA code QH) has shifted its operations in London from Heathrow to Gatwick. On 29 October the carrier began flying weekly from Hanoi to London's second busiest airport. The route will be flown using the airline's 787-9s with flights departing Hanoi late on Saturdays, arriving in the UK around 13 hours later on Sundays. The first two flights arrived almost an hour early at around 06:00 according to flightradar24.com. Therefore, the inaugural Gatwick to Hanoi service took place on Sunday 30 October, with the aircraft departing at 11:26. After 11 hours and 16 minutes it landed in Hanoi at 05:42 local time the following day. Bamboo Airways had spent the summer operating a weekly service between Hanoi and London LHR.
What they said
Jonathan Pollard, Chief Commercial Officer, Gatwick Airport, said: "The arrival of Bamboo Airways at Gatwick provides a very welcome addition to our operation. In the past 10 months, we have been able to significantly grow our connections across North America, so to also be able to continue to expand our routes across Asia is fantastic news for both leisure travellers and business passengers throughout London and the South-East. Vietnam is a wonderful country, offering a wealth of beautiful sights including stunning beaches, national parks, temples and vibrant streets and night markets, so we are delighted Gatwick passengers can now connect to its capital city and beyond so easily, via Bamboo's excellent network."
Hoang Ngoc Thach, Deputy Chief Commercial Officer, Bamboo Airways, said: "The non-stop Hanoi – Gatwick route is Bamboo Airways' next effort in serving UK market in particular and Europe in general. We hope the sense of hospitality and international 5-star oriented services bearing Vietnam footprint of Bamboo Airways will win European passengers' hearts as well as Vietnamese diaspora in the UK."
Second route to Gatwick starting in December
A second service to Gatwick is set to begin in December, with the addition of a weekly service from Ho Chi Minh City. This will mean that by the end of the year Bamboo Airways will be offering four routes to Europe as it will also be serving Frankfurt from Hanoi (2-weekly) and Ho Chi Minh City (weekly).
Competition on all of these routes is provided by Vietnam Airlines which serves London LHR from Hanoi (2-weekly) and Ho Chi Minh City (weekly), and Frankfurt from Hanoi (4-weekly) and Ho Chi Minh City (3-weekly).