New Route of the Day (29 October 2023): Air France between Paris CDG and Abu Dhabi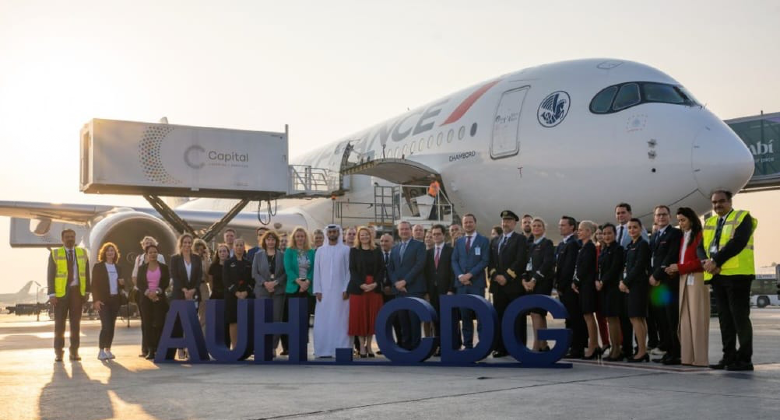 Air France chose the first day of the 2023/24 winter season to inaugurate flights between Paris CDG and Abu Dhabi. On Sunday 29 October, the carrier introduced daily flights between the two capitals, operated by its 324-seat A350-900 aircraft. Although the 5,260-kilometre route is also maintained by Etihad Airways daily, the two have signed a Memorandum of Understanding to cooperate both on the service and a range of other areas.
Flight AF638 departs Paris CDG at 21:15 local time, arriving in Abu Dhabi at 06:45 local time the following morning. The inbound service, operating as flight AF639, takes off from the Emirati capital at 08:45 local time, touching back down in France at 13:15 local time.
What they said
Angus Clarke, Chief Commercial Officer at Air France-KLM, said: "Air France is delighted to welcome today's inaugural flight linking two of the world's great capital cities. We are deeply honoured to be here and very confident that our passengers will be excited to explore the culture, heritage and opportunities in both cities. In the UAE's Year of Sustainability, it is an opportunity to share the Air France commitment to support Abu Dhabi's mandate to sustainable tourism and to help achieve the tourism objectives of the emirate. We are proud and privileged to be flying to Abu Dhabi, as it continues to emerge as a truly global aviation centre, catering to millions of passengers travelling to regional and international destinations. It is also a special pleasure to launch this new route as we celebrate the 90th anniversary of Air France."
Maureen Bannerman, Chief Commercial Officer at Abu Dhabi Airports, added: "We are pleased to join our partner, Air France, on the occasion of resuming their service between Abu Dhabi and Paris-Charles de Gaulle. France and the UAE have long held strong strategic partnerships and travel and tourism have always played an important part of this valuable exchange of cultures. We look forward to welcoming the French national carrier to Abu Dhabi International Airport and to revitalising travel experiences between the popular two destinations."
Air France returns to Abu Dhabi after over a decade
Air France's new daily service between Paris CDG and Dubai marks the airline's return to the capital of the United Arab Emirates after more than ten years. The route was last maintained in February 2012, when the carrier operated a 5-weekly service with its 219-seat A330-200 aircraft.
With the addition of Abu Dhabi, Air France expands its footprint in the Middle East. Within the region, the carrier also serves Dubai, Beirut, and Tel Aviv, with the latter currently suspended due to the ongoing conflict in Israel. Excluding Tel Aviv, Air France currently maintains 26-weekly flights from Paris CDG to the Middle East, with a total of 8,672 outbound seats per week. Of those, the airline maintains the most capacity to Dubai (4,736 seats), served 2-daily, followed by Abu Dhabi (2,268), and Beirut (1,668 seats), maintained daily.
Air France and Etihad Airways enter into partnership
The resumption of Air France's daily service to Abu Dhabi was brought on by the signing of a Memorandum of Understanding with Etihad Airways, aiming at enhancing their collaboration opportunities across passenger operations, loyalty programmes, talent development, and maintenance. Through this partnership, and subject to any necessary regulatory approvals, Air France-KLM and Etihad Airways plan to expand their codeshare and interline agreements initiated in 2012. As a first step, more than 40 new routes covering destinations across Europe, the Middle East, Asia Pacific and Australia have been made available for booking to customers.