New Route of the Day (29 October 2023): British Airways between London LGW and Accra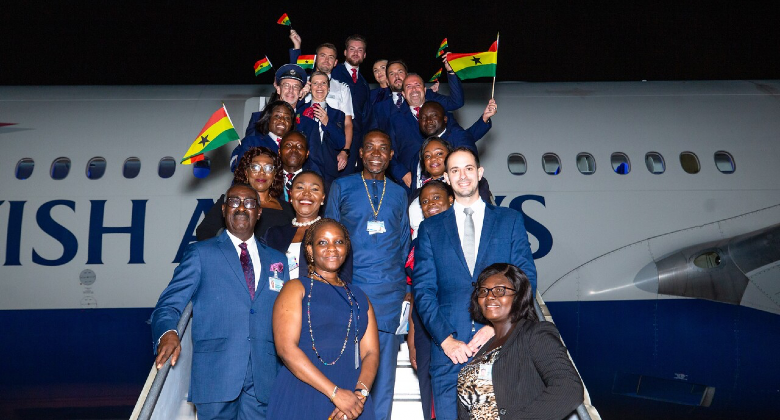 British Airways launched flights between London LGW and Accra in Ghana on Sunday 29 October. The 5,050-kilometre service will be maintained 3-weekly, on Tuesdays, Thursdays and Sundays, increasing to 4-weekly from April 2024. Operations will be maintained with the carrier's 336-seat 777 aircraft. British Airways faces no competition on the route. It complements the airline's existing daily A350 flights between London LHR and Accra.
Flight BA2067 departs London LGW at 12:00 local time, arriving in Accra at 18:35 local time. The return service, operating as BA2068, takes off from the Ghanian capital at 21:20 local time, arriving back at Gatwick at 04:00 local time the following morning.
What they said
Neil Chernoff, Director of Network and Alliances at British Airways, said: "With 11 direct flights, across two London gateways, we're pleased to offer our Ghanaian customers a greater choice of products and prices. Overall, we're doubling the number of seats between Accra and London, with 55% more capacity next summer versus 2019. We are always looking at routes and regions where there is potential for growth and Accra is one of those routes and Africa is one of those regions."
British Airways expands Africa operations
The number of British Airways flights from London to central and southern African gateways has been restored to pre-pandemic levels and the airline is now expanding its services to the continent.
British Airways operates daily flights from London LHR to Abuja, Accra, Nairobi, and Lagos and 2-daily services to Johannesburg. It also offers an expanded 2-daily service to Cape Town over the city's summer peak season (W23/24), reverting to daily in winter (northern summer). Additionally, there are 3-weekly rotations from London LGW to Mauritius, as well as 3-weekly seasonal flights to Cape Town, complementing the new service to Accra.
Apart from the Ghanian capital, the airline has added services to Sharm El-Sheikh in Egypt this winter and doubled the number of flights to Cairo compared to 2019.
It has also forged new partnerships on the continent, including a codeshare with South Africa's Airlink, and an expanded codeshare agreement with Qatar Airways to include more points in Africa.