New Route of the Day (29 October 2023): Uzbekistan Airways between Tashkent and Munich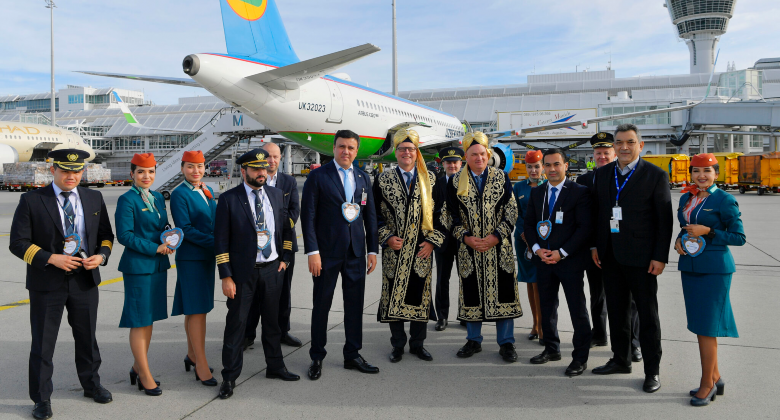 Uzbekistan Airways introduced flights between its hub in Tashkent and Munich on Sunday 29 October. The 4,515-kilometre service will be maintained 2-weekly, on Fridays and Sundays, with a mix of 190-seat 757 and 150-seat A320neo aircraft. The carrier faces no competition on the route.
Flight HY235 departs Tashkent at 06:25 local time, arriving in Munich at 09:20 local time. The return service, operating as flight HY236, takes off from the Bavarian capital at 10:45 local time, arriving back in Uzbekistan at 21:05 local time.
What they said
Utkur Alimov, General Manager in Frankfurt/Main for Uzbekistan Airways, said: "Uzbekistan Airways is pleased to expand its route network in Germany and to launch a new flight to Munich. Our flights to Frankfurt are in great demand. We are sure that the new flight to Munich will also be in demand among German tourists. The opening of a new destination will undoubtedly contribute to the strengthening of the Uzbek-German cooperation and serve the development of the tourism potential of our countries."
Ulrich Theis, Director of Traffic Development at Munich Airport, added: "We're delighted with the launch of this new service to Uzbekistan, which will also enable passengers to catch connecting flights to all of the 'Stan countries' via Tashkent. These flights will provide access from and via Munich to this fast-growing business and tourism region and will meet the rapidly growing demand for flights to central Asia."
Uzbekistan leads Central Asia In Europe capacity
The bulk of Uzbekistan Airways' operations in Europe are situated in Russia, with the carrier serving fifteen Russian airports from various points in Uzbekistan. Further afield in Europe, the airline also maintains flights to Türkiye (Ankara and Istanbul IST), as well as Riga and Minsk. In Western Europe, the addition of Munich complements the carrier's operations to Frankfurt in Germany. It also serves Paris CDG, London LHR and Milan MXP.
Overall, Uzbekistan Airways is operating some 296 flights per week between Uzbekistan and Europe during W23/24, offering 58,440 weekly seats on the market, based on Cirium schedules data. Uzbekistan is the leading market in Central Asia in terms of available capacity to Europe, ahead Kazakhstan, Tajikistan, and Kyrgyzstan. Historically, there has often been a battle between Uzbekistan and Kazakhstan for the largest market. Since 2010, Kazakhstan has been larger on nine occasions, but not recently.
The Uzbek carrier boasts a diverse fleet including A320s, A330s, 757s, 767s and 787s. Apart from Europe, the airline also has an extensive network to Asia and the Middle East.