New Route of the Day (29 September 2023): Etihad Airways between Abu Dhabi and Copenhagen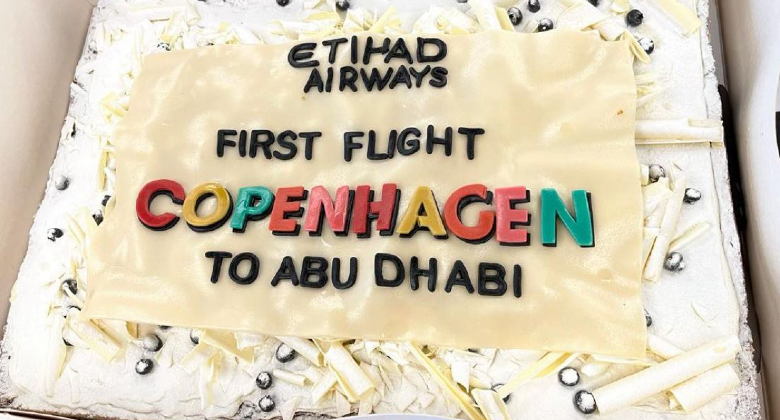 Etihad Airways chose the last week of September to commence flights between its hub in Abu Dhabi and Copenhagen. The 4,855-kilometre service, which launched on Friday 29 September, will be maintained 4-weekly on Mondays, Wednesdays, Fridays and Sundays, with the 290-seat 787-9 aircraft. The Emirati flag carrier faces no competition on the route.
Flight EY61 departs Abu Dhabi at 02:35 local time, arriving in Copenhagen at 07:20 local time. The inbound service, operating as flight EY62, takes off from the Danish capital at 10:30 local time, touching back down in the United Arab Emirates at 18:50 local time.
What they said
Antonoaldo Neves, Chief Executive Officer at Etihad Airways, said: "We are thrilled to start flying to Denmark for the first time, providing guests with more holiday options and easier access between Abu Dhabi and Europe. Our new flights take off for the winter season - the perfect time for guests to escape the cold and enjoy Abu Dhabi's beautiful beaches, world-class entertainment and rich heritage - and also ideal for travellers choosing to experience the unique allure of Europe in the winter."
Copenhagen Airport expand Middle East portfolio
Etihad Airways' service to Copenhagen marks the first time the Danish capital has been linked to Abu Dhabi with a scheduled air service. It also expands the airport's portfolio of destinations in the Middle East to six. Apart from Etihad's new service, both Qatar Airways and Finnair maintain flights to Doha, Emirates operates to Dubai, Middle East Airlines maintains services to Beirut, Norwegian links Copenhagen with Tel Aviv, while Iraq's UR Airlines flies to Erbil.
During the first week of October, Copenhagen boasts 30 departing flights to the Middle East offering a total of 8,666 seats, Cirium schedules data shows. The largest amount of capacity is offered by Emirates, followed by Finnair and Qatar Airways, while Etihad Airways comes fourth with 1,160 departing seats per week.
Copenhagen Airport sees busiest summer in four years
Copenhagen Airport has seen its busiest summer since the pandemic. During the peak travel months of June, July and August, Denmark's premier gateway handled almost eight million passengers, which is close to a million more than during the same period last year and an increase of 14%.
With almost 700,000 passengers, Spanish destinations ranked top among the five most popular markets, followed by France, Italy, Greece and Turkey. The most popular Spanish destinations were Malaga, Palma de Mallorca and Barcelona.
On the other hand, France ranked top in terms of the increase in passenger numbers. Almost 455,000 passengers travelled from Copenhagen to a French airport during the three summer months, representing a year-on-year increase of 44%.