New Route of the Day (3 April 2023): Aer Lingus between Belfast BHD and Newquay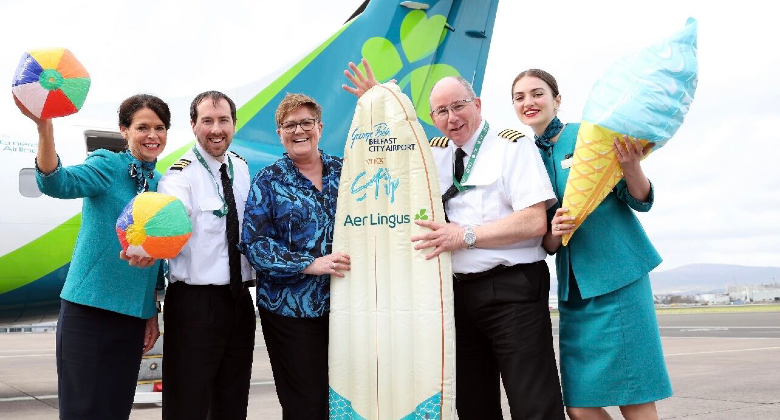 Aer Lingus has introduced a new seasonal domestic service in the United Kingdom with the launch of flights between Belfast BHD and Newquay on Monday 3 April. The 470-kilometre service is operated by Emerald Airlines on Aer Lingus' behalf under the Aer Lingus Regional brand. Flights are maintained 4-weekly on Mondays, Thursdays, Fridays and Sundays with the 72-seat ATR72 turboprop aircraft. The airline faces no competition on the route. In addition to introducing the new service, Aer Lingus is also increasing frequencies between Dublin and Newquay from 4-weekly to daily.
Flight EI3630 departs Belfast BHD at 11:20 local time, arriving at Cornwall Airport Newquay at 12:45. The return service, EI3631, departs at 13:15 local time, touching down at Belfast BHD at 14:40.
What they said
Ciaran Smith, Head of Commercial at Emerald Airlines, said: "We are delighted to be bolstering our services to and from Newquay. We have been very pleased with the feedback we've received since commencing our Dublin - Newquay service and believe Belfast - Newquay is a great new connection for both business and leisure travellers."
Amy Smith, Head of Commercial at Cornwall Airport Newquay, added: "It's fantastic that Aer Lingus Regional sees the potential of not only increasing the frequency of our Dublin connection, but also adding a new destination in Belfast for our passengers. We expect fantastic results from both routes next year due to the enhancement of destination options available to those wishing to fly from Cornwall. The new routes also increase opportunity for overseas markets to reach us with ease, helping us support Cornish tourism."
Aer Lingus adds five routes from Belfast BHD
Aer Lingus is adding a further three regional routes from Belfast BHD this summer, including to the Isle of Men starting 24 April, Newcastle from 28 April and seasonal operations to Jersey commencing 6 May. It had previously introduced services between Belfast BHD and East Midlands on 26 March.
Aer Lingus is looking to fill the void left by Flybe 2.0, which went into administration earlier this year. Of the new Aer Lingus routes from Belfast BHD this summer, only East Midlands and Newcastle were served by the second reincarnation of the Flybe brand. Furthermore, these were the only two routes left unserved by any other carrier following Flybe's collapse.