New Route of the Day (3 August 2023): Wizz Air between London LTN and Brasov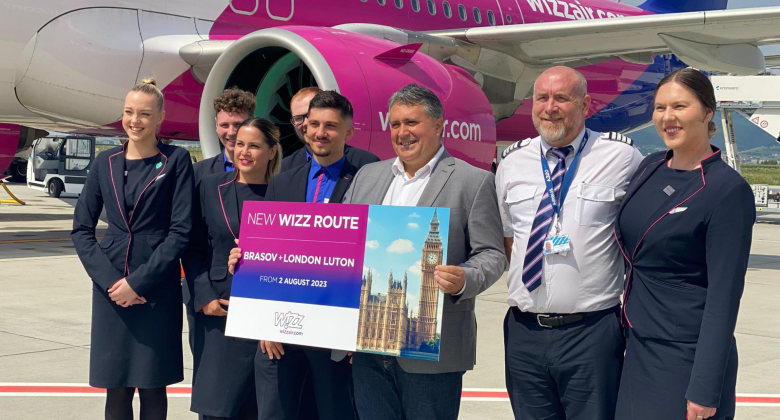 Wizz Air introduced flights between London LTN and Brasov in central Romania on Thursday 3 August. The 2,010-kilometre service will be maintained 3-weekly on Mondays, Wednesdays and Fridays with the A320-family aircraft. The ULCC faces no competition on the route. It marks the airline's first service to the newly opened Brasov Airport.
What they said
Valeria Bragarenco, Corporate Communications Manager at Wizz Air, said: "We are pleased to introduce our first route from Brasov to London. We remain committed to our promise to offer our Romanian customers convenient and affordable travel options, reflecting our continued investment and growth in Romania. London has long been a popular destination for travellers from all over the world, and through this new route, we aim to facilitate Romanian passengers with access to the captivating and diverse attractions of this emblematic city. We look forward to welcoming our travellers from Brasov and beyond aboard our Wizz flights."
Brasov becomes Romania's 17th commercial airport
Brasov Airport, located in the Transylvania region in Romania, opened its doors to commercial traffic on 15 June 2023, becoming the 17th of the type in the country and the first to be newly built in over 50 years. Construction of the airport's runway began in 2012 and was completed two years later, while the passenger terminal was built between 2020 and 2021. The Romanian Air Traffic Management Service has so far approved 12-hour operations for the airport, restricted to between seven in the morning and evening.
Since its opening, Romanian LCC Dan Air launched nine routes from the airport, while several other carriers maintain summer charters to Greece and Turkey. Wizz Air plans to further develop its operations out of Brasov, with the introduction of 2-weekly flights from Dortmund on 2 September. During its first full month of operations this July, Brasov Airport handled just over 10,000 passengers. It is eventually planned to process 300,000 passengers per year.
Last year, Brasov was Romania's third most visited city, behind the capital Bucharest and Constanta, with over 1.8 million visitors. One of the city's most famous landmarks is the Dracula Castle. Since Brasov had no operational airport up until now, visitors had to drive or take a train from the nearest airports, which are in Bucharest and Sibiu, both located around two-and-a-half-hours by car or bus.