New Route of the Day (3 December 2021): PLAY between Reykjavik and Amsterdam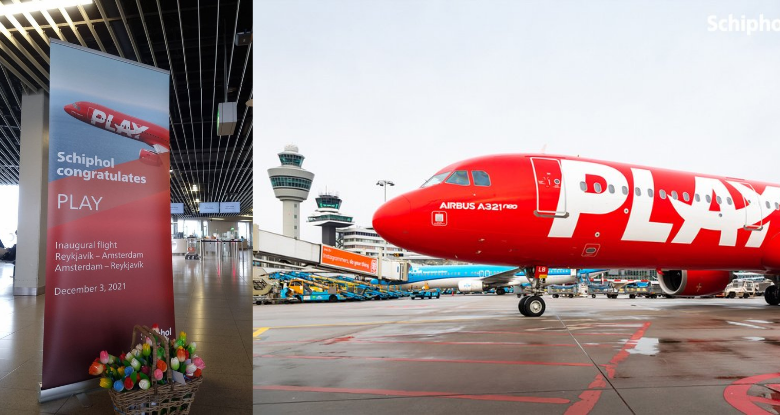 PLAY (IATA code OG) became the latest airline to serve western Europe's busiest airport when it began 2-weekly service (Mondays and Fridays) on 3 December from its home base at Reykjavik in Iceland to Amsterdam. The 2,040-kilometre route will be flown by the airline's bright red A321neos, with the inaugural service of flight OG 460 being operated by TF-PLB. Competition on the route comes from Icelandair (daily) and Transavia (4-weekly).
PLAY began commercial service on 24 June 2021 and launched seven routes quite quickly. These were Alicante, Barcelona, Berlin, Copenhagen, London STN, Paris CDG and Tenerife TFS. This new Amsterdam service is the airline's first new route since 22 July, when it launched its Copenhagen service. It currently has 14 more routes on sale with announcements regarding the airline's first US routes expected soon.
The additional European routes revealed so far, and their launch dates and planned weekly frequencies are:
Gran Canaria: 22 December 2021, weekly (until 13 April 2022)
Salzburg: 22 January 2022, weekly (until 19 February 2022)
Dublin: 28 April 2022, 3-weekly
Prague: 5 May 2022, 2-weekly
Lisbon: 13 May 2022, 2-weekly
Gothenburg: 20 May 2022, 2-weekly
Brussels BRU: 24 May 2022, 3-weekly
Stavanger: 26 May 2022, 2-weekly
Malaga: 29 May 2022, weekly
Trondheim: 31 May 2022, 2-weekly
Palma de Mallorca: 1 June 2022, weekly
Stuttgart: 3 June 2022, 2-weekly
Bologna: 7 June 2022, 2-weekly
Madrid: 15 June 2022, 2-weekly