New Route of the Day (3 July 2022): Edelweiss between Zurich and Newquay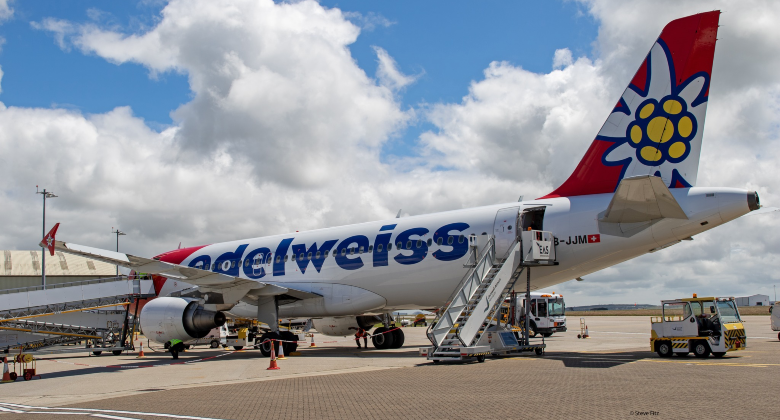 A year later than originally planned, Edelweiss (the leisure subsidiary of SWISS) began weekly service between Zurich and Newquay in the south-west of the UK. Flights will operate every Sunday between 3 July and 18 September, a total of just 18 flights. The carrier will utilise its 174-seat A320s on the 1,045-kilometre route.
Zurich increases UK network to nine destinations
As a result of this new service, Zurich now has non-stop service to nine UK airports in July (weekly frequency in brackets).
Birmingham: SWISS (4)
Edinburgh: Edelweiss (7)
Jersey: Blue Islands (1)
London LCY: SWISS (16), British Airways (15)
London LGW: easyJet (10)
London LHR: SWISS (42), British Airways (17)
London LTN: easyJet (3)
Manchester: SWISS (11)
Newquay: Edelweiss (1)
Out of the 127 weekly flights planned, 73 are with SWISS, 32 with British Airways, 13 with easyJet, eight with Edelweiss and one with Blue Islands.
Nine airlines now serving Newquay
Cornwall Airport Newquay (as it brands itself) now has nine airlines operating a total of 60 weekly scheduled flights in July according to Cirium data (weekly frequency in brackets):
Aer Lingus: Dublin (4)
British Airways: London LHR (launched 24 July 2020, 3)
Eastern Airways: London LGW (launched 15 December 2021, 17), Humberside (launched 1 April 2022, 2)
easyJet: Manchester (launched 24 May 2021, 5), Glasgow (launched 29 May 2021, 2)
Edelweiss: Zurich (1)
Eurowings: Düsseldorf (1)
Isles of Scilly Skybus: Isles of Scilly (3)
Loganair: Manchester (launched 3 May 2021, 7), Edinburgh (6), Newcastle (4), Teesside (launched 9 May 2021, 1)
Ryanair: Alicante (2), Faro (2)
Domestic routes account for 50 of the 60 weekly departures. Highlighting how volatile the regional air travel market is these days, last summer also saw BA CityFlyer operate seasonal service to Belfast BHD, Eastern Airways serve Leeds Bradford, and easyJet offer peak seasonal services to Birmingham, Inverness and London LGW. None of these routes have returned this summer.
Zurich joins Alicante, Dublin, Düsseldorf and Faro as international routes available from the airport. Back in the pre-pandemic summer of 2019, there were also international services to Copenhagen (with SAS), Cork (with Aer Lingus) and Stuttgart (with Eurowings).
In the three years prior to the pandemic, Newquay was handling just over 450,000 passengers per annum according to UK CAA data.