New Route of the Day (3 July 2023): Qatar Airways between Doha and Lyon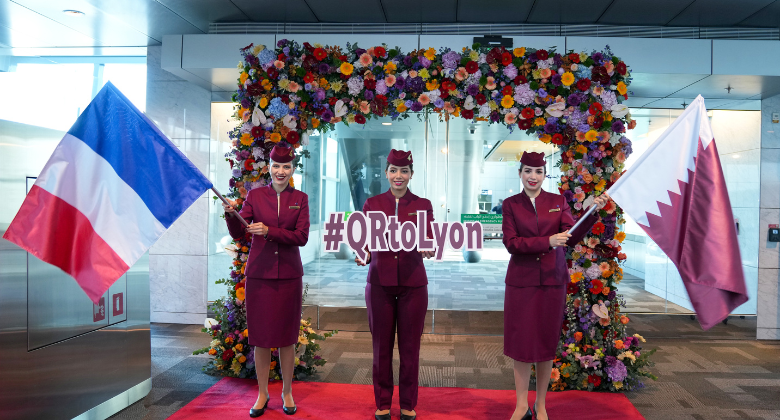 Qatar Airways introduced a new destination in France on Monday 3 July by launching flights between Doha and Lyon. The 4,955-kilometre service will be maintained 4-weekly on Mondays, Wednesdays, Fridays, and Sundays with the 254-seat 787-8 aircraft. The airline faces no competition on the route.
Flight QR51 departs Doha at 08:25 local time, arriving in Lyon at 14:10 local time. The return service, operating as flight QR52, takes off from the French city at 16:35 local time, touching back down in the Qatari capital at 23.:35 local time.
What they said
Akbar Al Baker, Qatar Airways Group CEO, said: "I am delighted to announce the launch of Qatar Airways' inaugural flight to the renowned French city of Lyon. Qatar and France mutually benefit from a longstanding strategic partnership in various fields, including diplomacy, trade, and tourism. Our expanded network in France is a testament to our successful cooperation, and we look forward to welcoming French and European passengers to travel through our hub, Hamad International Airport, for seamless and captivating journeys to more than 160 global destinations."
Tanguy Bertolus, Chairman of the Management Board of Lyon Airport, added: "This new international destination from Lyon illustrates VINCI Airports' know-how in the development of new routes, and demonstrates the quality of its relations with various airlines. This connection between the capital of Qatar and Lyon will further strengthen the appeal of the Auvergne-Rhone-Alpes region, as well as the Lyon metropolitan area by offering more options to and from the Middle East and Asia, particularly in Vietnam, Indonesia and Thailand."
Lyon expands Gulf connectivity
Doha has become Lyon Airport's third destination in the Guld, with the French city also served by Emirates from Dubai, as well as Royal Jordanian from Amman, the latter having been launched last winter.
Lyon is Qatar Airways' third destination in France, with the airline continuing to maintain services to both Paris CDG and Nice. The route to France's second largest city was initially to be introduced during S20 but plans for its launch were scrapped as a result of the pandemic.