New Route of the Day (3 June 2022): British Airways between London LHR and Portland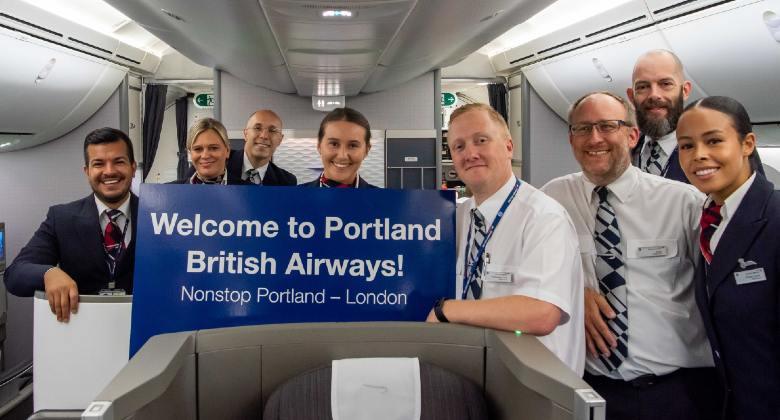 British Airways
began service to its latest US destination on Friday 3 June, when it added 5-weekly service from
London
LHR to
Portland
in Oregon. The 7,910-kilometre route will be flown using the airline's fleet of four-class, 787-8s. Since January 2000, Portland has had the following non-stop services to Europe:
Lufthansa to Frankfurt: April 2003 to August 2009
Northwest to Amsterdam: April 2008 to January 2010
Delta to Amsterdam: February 2010 to March 2020; resumed May 2022
Condor to Frankfurt: July 2015 to September 2019; resumed May 2022
Delta to London LHR: June 2017 to October 2019
Icelandair to Reykjavik KEF: June 2015 to October 2019, resumed July 2021
British Airways now serves 26 US destinations non-stop from London this summer
According to our analysis of Cirium schedule data, British Airways is offering 28 non-stop routes to 26 destinations in the US from London. Of these, 25 destinations are served from Heathrow, while Tampa is only served from Gatwick. New York JFK and Orlando MCO are served from both Gatwick and Heathrow. Since the summer of 2019, only Charleston (from Heathrow) and Fort Lauderdale (from Gatwick) are no longer served. Apart from Portland, BA has also added service from Heathrow to Orlando MCO since summer 2019.
What they said
Neil Chernoff, Director of Networks and Alliances, British Airways, said: "This summer British Airways will be flying from 26 US cities to London and we're very excited to be adding Portland to our list of transatlantic destinations. Not only are we the only airline to offer direct flights from Portland to London, but this new route also opens a wide variety of connections for our customers. Through Alaska Airlines, our oneworld partner, British Airways will offer codeshare connections to several destinations operated by Alaska Airlines from Portland." Curtis Robinhold, Executive Director, Port of Portland, added: "This flight is great news for the residents and businesses of Oregon and south-west Washington – London is our largest transatlantic market and is an amazing gateway to many other parts of the world. We deeply appreciate the commitment British Airways has shown Portland and we're excited to see the synergy between British Airways, Alaska Airlines and American Airlines as they are all part of the oneworld alliance."