New Route of the Day (3 May 2022): Volotea between Naples and Aalborg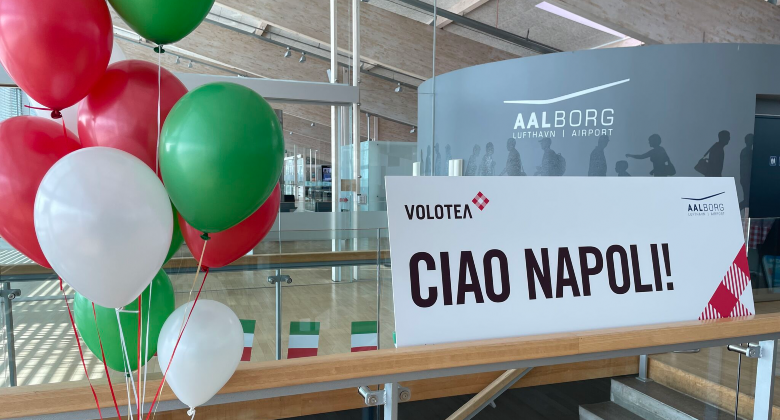 Volotea launched a new route to a country it has not previously served when it began weekly service from Naples to Aalborg in Denmark on Tuesday 3 May. The 1,830-kilometre route faces no direct competition and will operate until 25 October. While some of the outbound flights from Aalborg are still available for €19, the last return flight on 25 October is currently on sale for €338. The first two rotations on the route have been operated using the airline's A319s.
Aalborg in northern Denmark is by far Volotea's most northern destination, well above Hannover in Germany (which will welcome flights from Cagliari and Venice VCE starting later this year). It also becomes the airline's first ever scheduled service to anywhere in Scandinavia.
19 routes this summer from Naples
Naples ranks as Volotea's eighth busiest airport in August 2022 with 59 weekly departures. The seven busier airports are Olbia (138 weekly departures), Nantes (132), Cagliari (94), Venice VCE (72), Athens (69), Verona (68) and Rome FCO (62). Volotea's network in August comprises 17 routes, mostly to destinations in Greece (Heraklion, Kefalonia, Mykonos, Preveza, Rhodes, Santorini, Skiathos and Zakynthos) and Italy (Cagliari, Genoa, Lampedusa, Olbia, Palermo and Pantelleria), plus Aalborg, Bilbao and Nantes.
Two other Italian routes (Turin and Venice VCE) are bookable for part of the summer season, but not in August. In addition, Catania service resumes from 11 October. Finally, although flights to Athens are bookable from Naples, the flights are actually operated by Aegean Airlines, with which Volotea is codesharing.