New Route of the Day (3 November 2023): LOT Polish Airlines between Wroclaw and Seoul ICN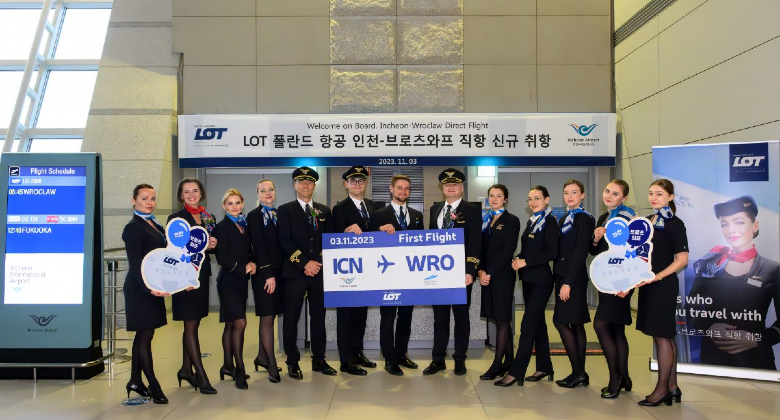 LOT Polish Airlines introduced a new weekly service between Wroclaw, in Poland's Lower Silesia region, and Seoul ICN on Friday November 3. The 8,045-kilometre route will be maintained with the 252-seat 787-8 aircraft. It faces no competition between the two cities.
Flight LO2005 departs Wroclaw in southwestern Poland at 16:25 local time, arriving in Seoul at 11:45 local time the following morning. The return service, operating as flight LO2006 takes off from the South Korean capital at 08:45 local time, touching back down in the Polish city at 14:25 local time.
What they said
Michal Fijol, CEO of LOT, said: "Wroclaw is a major economic and academic centre, which translates into close Polish - Korean cooperation - more than half of the nearly 600 Korean companies are based in Lower Silesia. Here, not only factories are being built, but also R&D branches of some of the biggest companies. The direct connection between Wroclaw and Seoul is a next step in the expanding business partnership. I am excited to be offering direct flights from the capital of Lower Silesia to Seoul. I strongly believe that this connection will enjoy great interest among our passengers."
Cezary Pacamaj, President of Wroclaw Airport, added: "It's worth having dreams and it's worth fulfilling them. This is a historic day for our airport. We can proudly announce the launch of the first transcontinental connection from Wroclaw straight to Seoul, operated by an aircraft that has never taken off from our airport before. This great, historic project was made possible thanks to the fruitful cooperation of all entities involved, such as the local government of the Lower Silesian Voivodeship, the city of Wroclaw, representatives of LOT and government representatives."
Wroclaw gets first scheduled long-haul flights
Wroclaw Airport is primarily served by LCCs with both Ryanair and Wizz Air boasting a base in the city. Up until now, LOT's only route from Wroclaw was to its hub in Warsaw WAW. Other legacy carriers operating out of the airport include KLM, Lufthansa and Swiss, with Finnair to join with a new seasonal route to Helsinki starting in April 2024.
Wroclaw Airport handled just over 3 million passengers during the first three quarters of this year, surpassing its 2022 end-of-year result, which stood at 2.8 million travellers. It estimates handling 3.9 million passengers this year, surpassing its record from 2019 when it saw 3.5 million customers.
It is estimated some 35,000 passengers flew indirectly between Wroclaw and South Korea in 2022. That figure is expected to grow to 44,000 this year, with 80% of them traveling to and from Seoul.
LOT now serves Seoul from three cities
The Polish flag carrier now boasts flights to Seoul from three cities. In addition to Wroclaw, they include Warsaw WAW and Budapest. The airline maintains 4-weekly flights between the Polish and South Korean capital this winter, and 2-weekly between Budapest and Seoul. In 2022, the airline handled 142,000 passengers on its Seoul operations, while the figure is expected to grow to 200,000 this year.