New Route of the Day (30 October 2022): Aer Lingus between Dublin and Southampton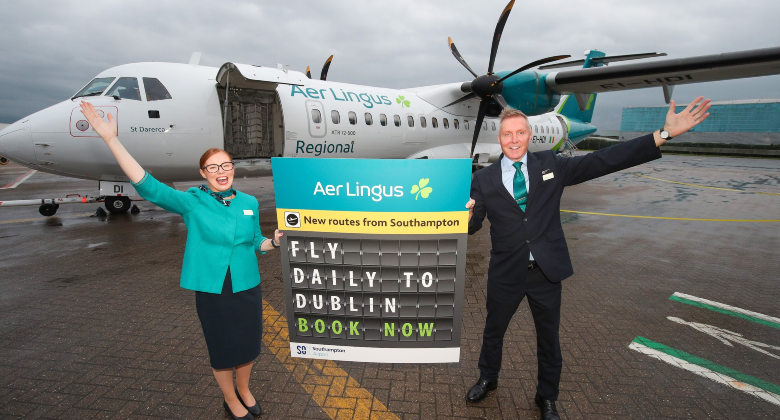 Aer Lingus has added Southampton on the UK's south coast to its route network from Dublin. The 435-kilometre route will be flown daily on behalf of Aer Lingus by Emerald Airlines using its ATR 72-600s. Competition on the route is provided by Eastern Airways, which also offers a daily service using ATRs. It launched its service between the two airports in July 2021.
This is Aer Lingus's second route to Southampton as it already serves the airport from Belfast BHD (currently 13-weekly), a route it launched earlier this year back on 7 July. This route is also operated by Emerald's ATRs. Eastern Airways had been operating the route since June 2020, but pulled off the route in mid-October. The revived Flybe entered the market in July, with a daily service. As a result, in September there were three carriers offering flights from Southampton to Belfast BHD; Eastern (13-weekly), Aer Lingus (10-weekly) and Flybe (daily). Three regional carriers competing head-to-head on a UK domestic route has never been a recipe for financial success and Eastern has chosen to withdraw, at least for the time being.
Flybe was leading carrier
The Dublin-Southampton route used to be dominated by Flybe. It connected the two airports pre-pandemic with up to three daily flights, before the airline collapsed just before the pandemic grounded all flights in the UK. This summer, BA CityFlyer operated a weekly (Saturday) service between mid-May and October using its London LCY based E190s.
Aer Lingus now serves 14 UK airports
With the addition of Southampton, Aer Lingus now serves 14 UK airports non-stop from Dublin this winter according to Cirium data. This is one more than in November 2019. London LCY was served up to 6-daily back then, but is currently not served. In addition to Southampton, Aer Lingus has also added Exeter to its Dublin network. This 5-weekly service began on 29 April.
The other 12 UK airports served in November (with weekly frequency shown in brackets) from Dublin are: Aberdeen (7), Birmingham (34), Bristol (17), Edinburgh (26), Glasgow (23), Isle Of Man (6), Leeds Bradford (13), London LGW (38), London LHR (62), Manchester (35), Newcastle (5) and Newquay (4). Compared with November 2019, Aer Lingus has cut its weekly UK flights by 18% (from 344 to 282) with capacity down 14%.