New Route of the Day (30 October 2023): Juneyao Air between Zhengzhou and Milan MXP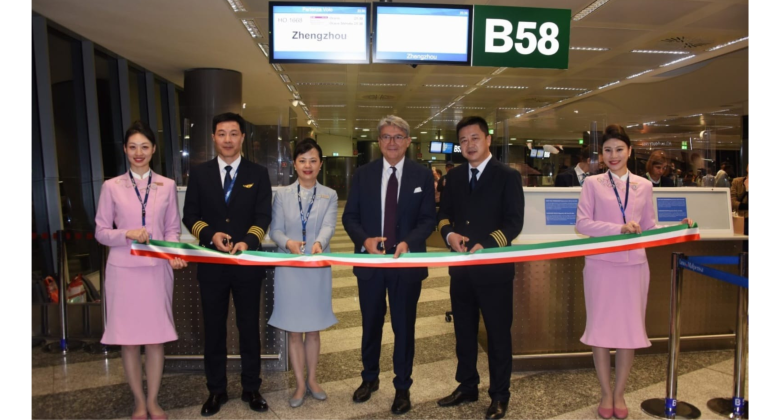 Juneyao Air introduced flights between Zhengzhou, in central China, and Milan MXP on Monday 30 October. The 8,385-kilometre route will be maintained 2-weekly on Mondays and Fridays, with the 322-seat 787-9 aircraft. The airline faces no competition between the two cities.
Flight HO1667 departs Zhengzhou at 14:50 local time, arriving at Milan MXP at 19:30 local time. The return service, operating as flight HO1668, takes off from the Italian city at 21:30, touching back down in China at 14:45 the following afternoon.
What they said
Wang Junjin, Chairman of Juneyao Air, said: "As the world's fashion capital, Milan has a lot of business demand and we expect this route to further strengthen ties between Zhengzhou and the surrounding provinces, and Southern Europe and Europe as a whole. This service will contribute to business, cultural and tourism exchanges, and we are confident in the sustainability and healthy operation of this route."
China - Milan traffic exceeds pre-pandemic levels
The nonstop service between Zhengzhou and Milan MXP marks another milestone in the growth of the Asian market at the Italian airport, where Chinese nationals hold a significant share in arrivals and departures, ranking second in terms of the number of non-Schengen passengers, following those from North America.
In addition to Juneyao Air, Air China maintains flights from Beijing PEK, Shanghai PVG and Wenzhou to Italy's second-largest city. Furthermore, Hainan Airlines links Shenzhen and Milan MXP, while Italy's Neos operates between Malpensa Airport and Nanjing.
During W23/24, there are 24-weekly departing flights from Milan MXP to China, with a total of 7,294 weekly seats on the market each way. This is up on the pre-pandemic 2019 when there were 19-weekly flights between the two.
The Shanghai-based Juneyao Air is expanding rapidly. Established 17 years ago, it now operates with its subsidiary Jiuyan and boasts a fleet of 115 aircraft. It covers over 300 domestic and international routes and serves some 20 million passengers annually. Apart from Milan MXP, the carrier maintains European operations between Shanghai PVG and Helsinki, while it will introduce flights between the Chinese city and Athens from April 2024.
Zhengzhou is the capital and largest city of Henan Province in the central part of China. The city lies on the southern bank of the Yellow River and is a major hub for China's national transportation network, with railways connecting Zhengzhou to Europe. It has a population of 12.6 million.