New Route of the Day (30 October 2023): SAS between Copenhagen and Bangkok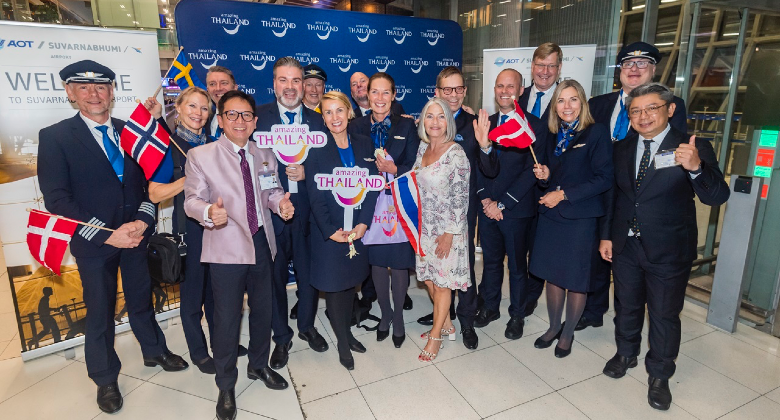 SAS inaugurated seasonal winter operations between its Copenhagen hub and Bangkok on Monday 30 October. The 8,645-kilometre route will be maintained 3-weekly on Mondays, Wednesdays, and Fridays departing Copenhagen with the A350-900 aircraft. The airline competes directly against daily Thai Airways flights. Although both are currently Star Alliance members, SAS will soon be transitioning to SkyTeam instead, following Air France-KLM's stake acquisition.
Flight SK973 departs Copenhagen at 23:35 local time, arriving in Bangkok at 17:10 local time the following day. The inbound service, operating as flight SK974, takes off from Thailand's capital at 23:50 local time on Tuesdays, Thursdays and Saturdays, touching back down in the Danish capital at 06:40 local time the following morning.
What they said
Paul Verhagen, Chief Commercial Officer at SAS, said: "Thailand and the Scandinavian countries have a long history of friendship and cooperation and returning with a direct route is a true pleasure. The Bangkok route will offer a perfect entry point for wider Thailand and Asia and be a great option for both business and leisure travellers. Thailand is a favourite destination among many passengers during the winter season and a lot of Scandinavians see Thailand as their home away from home."
SAS returns to Bangkok after a decade
The launch of the Copenhagen - Bangkok service comes almost 75 years after SAS' first flight between the two capitals in 1949. Operations were maintained for 64 years before services ceased in 2023.
Operations between Copenhagen and Bangkok will be maintained only during the winter until 3 April 2024. The airline offers 19,800 seats on the market between the two for the duration of W23/24. Seat capacity between Scandinavian countries and Thailand amounts to 354,586 throughout this year, including those available on scheduled and charter flights operated by Thai Airways, Norse Atlantic, Sunclass Airlines, and TUI.
Thailand recorded 254,417 visitors from Scandinavia in the first nine months of this year. The number is expected to reach 404,452 visitors by year's-end. Scandinavian visitors to Thailand stayed on average 18.5 days.
SAS now flies to three Asian destinations
SAS offers customers a total of 9-weekly flights to Asian hubs with 2,700 seats each way. In addition to the newly launched Bangkok service, SAS also serves Shanghai PVG and Tokyo HND, all from Copenhagen, 3-weekly each. This is down on the pre-pandemic 2019, when in addition to Shanghai it also maintained operations to Hong Kong, Tokyo NRT (instead of Tokyo HND) and Beijing PEK. Although it had just one additional destination back then compared to now, it had significantly more frequencies and capacity, operating 25-weekly flights with 6,280 seats on the market each way.