New Route of the Day (31 October 2023): British Airways between London LHR and Belgrade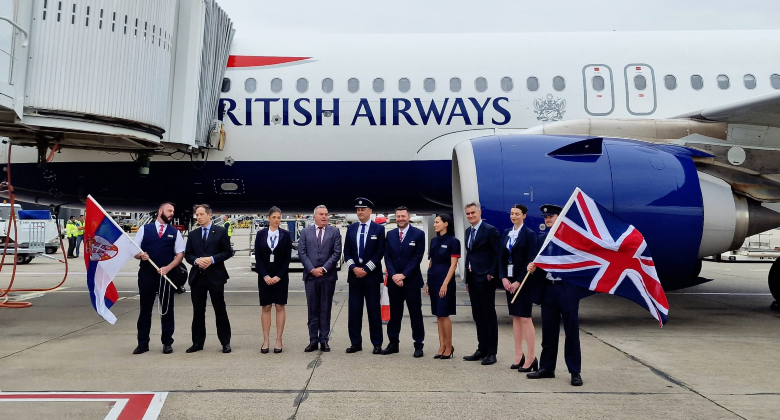 British Airways introduced operations between London LHR and Belgrade on Tuesday 31 October, marking its return to the Serbian market after 13 years. The airline will maintain 3-weekly flights between the two capitals, on Tuesdays, Fridays, and Sundays, with the A320 aircraft. It will compete directly against Air Serbia's daily rotation on the route, as well as indirectly against Wizz Air and its 6-weekly flights between London LTN and Belgrade.
What they said
Neil Chernoff, Director of Network and Alliances at British Airways, said: "As we continue our investment programme into new products, services, and technology, we're excited to further strengthen our connections between London and Central Europe and be back in Serbia after more than a decade. We know British travellers are attracted to Belgrade's history, nightlife, and river views, and we look forward to welcoming leisure and business travellers and those visiting family and friends on board."
Miodrag Mirkovic, Chief Customer Officer at Belgrade Airport, added: "I am pleased to welcome back British Airways at Belgrade Nikola Tesla Airport and with new connections to London. Belgrade to London is one of our most popular routes and we invite travellers from the UK to discover more of what our city and Serbia more broadly has to offer, both as a leisure and business destination."
British Airways back in Belgrade after 13 years
British Airways maintained flights between London and Belgrade from 1957 until 2010, with short breaks. Its last service on the route was operated in November 2010 when it was discontinued amid cost cutting measures introduced because of the impact of the global financial crisis.
British Airways hopes to achieve a 50-50 ratio of point-to-point and transfer passengers on the route. Currently, the carrier is recording notable transfer traffic on its Belgrade service to and from the US, especially New York and Mami.
Belgrade Airport registers busiest year on record
Belgrade Airport has already surpassed its record 2019 end-of-year result by handling over 6.6 million passengers by the end of this September, with figures up 26% on four years ago. The strong growth has been primarily generated by Air Serbia, which introduced 23 new routes from the airport this year alone, on top of another 20 last year, including new long-haul operations to Chicago ORD and Tianjin in China.
Foreign carriers have also increased their presence in Belgrade this year. airBaltic, Anadolujet, Jazeera Airways and Wizz Air have all introduced new routes from the Serbian capital, with the ULCC stationing a fourth aircraft at its Belgrade base this summer and introducing a number of new destinations. Belgrade Airport is currently connected with over 100 cities through nonstop flights.