New Route of the Day (31 October 2023): Croatia Airlines between Zadar and Munich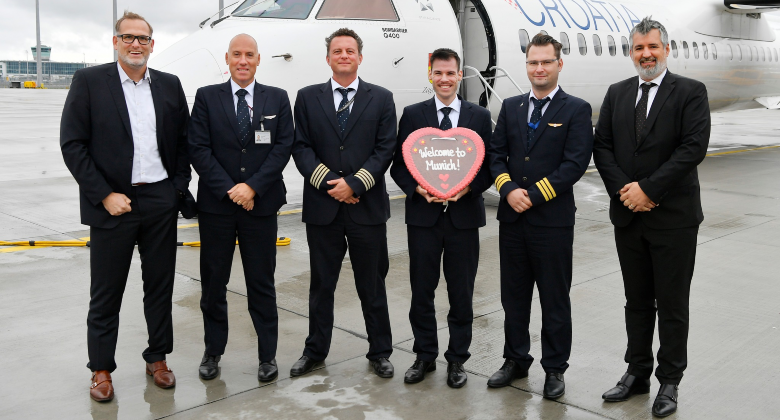 Croatia Airlines inaugurated a new service between Zadar, on the Croatian coast, and Munich on Tuesday 31 October. The 545-kilometre route will be maintained 2-weekly on Tuesdays and Saturdays with the Dash 8 aircraft. The airline faces no competition on the route during the winter, however, its fellow Star Alliance member and codeshare partner Lufthansa operates flights between the two cities seasonally over the summer months.
What they said
Marija Pavic, Head of Sales at Croatia Airlines, said: "We are delighted that together with the Zadar County Tourist Board, the Zadar Tourist Board and Zadar Airport we have established this new service and provided passengers a nonstop link to Europe during the winter period. We are confident passengers will utilise this new opportunity to travel and that this joint product will contribute to the development of the tourist potential of the Zadar County and an even more successful operation of Zadar Airport."
Josip Klismanic, General Manager of Zadar Airport, added: "Expanding the network of destinations in the winter season is Zadar Airport's strategic goal. We are extremely glad that our national airline Croatia Airlines and the county Tourist Board have assisted us in achieving this goal. We hope that the introduction of the Zadar - Munich service during the winter is only the beginning."
Munich is Croatia Airlines' first international destination from Zadar
Croatia Airlines maintains domestic flights from Zadar to its main hub in Zagreb, as well as to the coastal city of Pula, with Munich becoming its first international route. The Bavarian capital plays an important role in Croatia Airlines' network, as the airline primarily feeds Lufthansa's operations out of the city, with which it enjoys close cooperation.
Apart from Zadar, Croatia Airlines also maintains year-round flights from Zagreb, Split, and Osijek to Munich, as well as seasonal summer operations from Brac, Dubrovnik and Rijeka.
Zadar is Croatia's fastest growing airport
Zadar Airport has seen significant passenger and traffic growth this year, primarily as a result of Ryanair, which boasts a three-aircraft seasonal summer base in the city, accounting for almost 80% of its summer capacity. Ryanair had 47 Zadar routes in 16 countries in August 2023, with Milan BGY and Vienna the most served, each with a daily service. The ULCC's network rose from 21 routes from 10 nations in 2019. Zadar Airport is expected to handle 1.25 million passengers this year, up 25% on 2019.