New Route of the Day (31 October 2023): Kuwait Airways between Kuwait City and Barcelona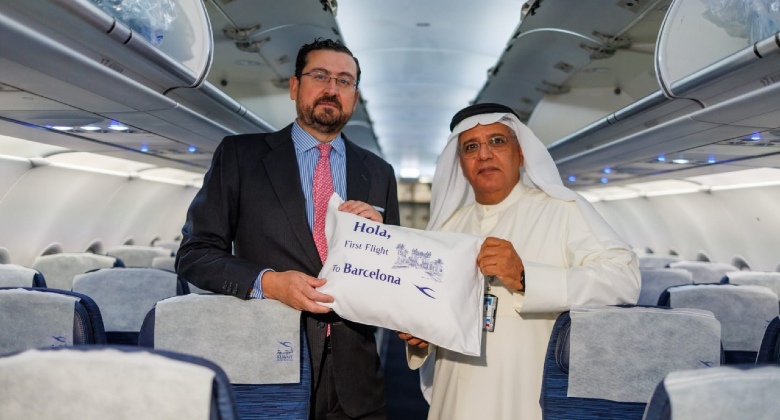 Kuwait Airways inaugurated flights between Kuwait City and Barcelona on Tuesday 31 October. The 4,330-kilometre route will be maintained 3-weekly on Mondays, Thursdays and Saturdays with the 134-seat A320neo aircraft. The Gulf carrier faces no competition between the city-pair.
Flight KU135 takes off from Kuwait City at 07:15 local time, arriving in Barcelona at 12:30 local time. The return service, operating as flight KU136, departs Spain's second-largest city at 13:30 local time, touching back down in Kuwait at 21:40 local time.
What they said
Ahmed Mohammed Alkreebani, CEO of Kuwait Airways, said: "Today we are pleased to celebrate the launch of Kuwait Airways' first flight to the Spanish city of Barcelona, which is one of the most important travel destinations in Europe. This comes within the framework of the company's strategy to expand its network of destinations and provide greater options. Kuwait Airways' choice of the Spanish destination, Barcelona, came after a careful and comprehensive study of the requirements of the local and global market. The city of Barcelona contains many tourist, historical, cultural, and sporting attractions rich in diverse cultures, in addition to distinguishing it as a suitable destination for spending holidays throughout the year. It is one of the most important tourist and cultural cities in Europe, which includes the best tourist areas and the best football clubs in the world."
Miguel Maro Aguilar, the Ambassador of Spain to Kuwait, added: "In slightly over a year we have seen the start of flights to Madrid, and now to Barcelona. The route to Madrid has become a very successful initiative, both for the company and for the health of our bilateral relations. The flight to Barcelona, the second-largest city in Spain and one of the most beautiful and popular tourism destinations in Europe, will undoubtedly open the doors to more people-to-people contacts, more business and opportunities of all kind to the benefit of both nations. My deep appreciation today to Kuwait Airways management for their genuine confidence in Spain."
Kuwait Airways' Europe network grows to 14
Barcelona becomes the second destination in Spain to be served by Kuwait Airways following Madrid, which was launched last year. Some 60,000 Kuwaiti tourists visited Spain in 2022, while the figure is expected to reach 100,000 this year.
The Kuwaiti flag carrier is maintaining 68 weekly flights from Kuwait City to Europe during W23/24. In addition to Barcelona and Madrid, they include, Amsterdam, Athens, Paris CDG, Rome FCO, Frankfurt, Geneva, Istanbul IST, Istanbul SAW, London LHR, Manchester, Munich, and Milan MXP. Out of those, London LHR and Istanbul IST have the greatest number of flights, amounting to 13 and 12-weekly respectively. Overall, Kuwait Airways has 14,871 weekly seats on the market from Kuwait City to Europe.