New Route of the Day (4 April 2022): Eurowings between Hamburg and Bilbao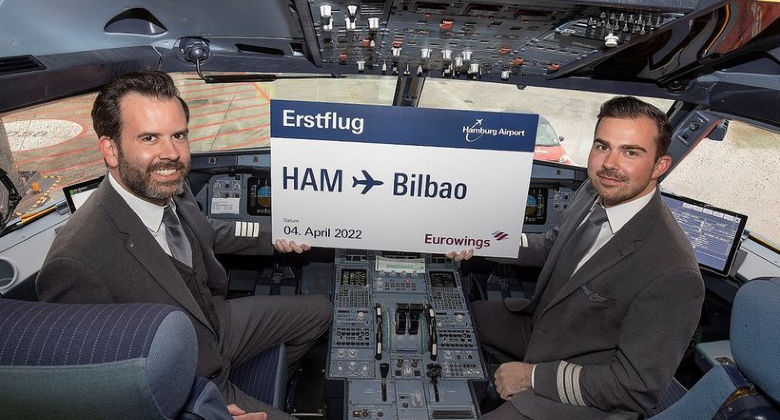 Eurowings on Monday 4 April launched a new, 2-weekly service between Hamburg in northern Germany and Bilbao in northern Spain. The 1,490-kilometre route will be operated every Monday and Friday during the summer season and faces no direct competition. In fact, this appears to be the first time the two airports have ever been connected with scheduled flights. According to Cirium schedule data, Eurowings will use its smaller A319s on the route until the end of June, after which its larger A320s will be used to transfer passengers between the two cities.
Almost 90 routes tried at Hamburg since 2005
Hamburg has been a base for Eurowings and its predecessor germanwings since November 2005. By the end of this summer the carrier will have operated non-stop to almost 90 destinations from Hamburg, of which 55 are set to be served this summer. This is a record number of routes for the airline in a season. However, with 333 weekly departures planned in August, Eurowings will not be offering as many flights from Hamburg as it did in the peak summer months of 2014 through to 2019.
The new Bilbao route will be Eurowings's ninth Spanish destination this summer. In addition, it also serves three destinations in winter only (La Palma, Lanzarote and Tenerife TFS) making for a total of 12 routes to Spain. This makes Spain the leading country market for Eurowings from Hamburg, ahead of Italy, which will see nine airports served this summer. Then comes Greece with eight routes and Germany with five. These four countries account for over 60% of the airline's routes at Hamburg.
Total Hamburg seat capacity down over 20% this summer versus 2019
According to Cirium schedule data, seat capacity at Hamburg in S22 is expected to be 21% lower than in S19. Eurowings remains the airport's leading carrier accounting for just under 30% of seats in both years. Among the airport's top 10 airlines, Wizz Air (+168%) and Turkish Airlines (+40%) have seen the biggest increase in seat capacity. While several airlines present in S19 (such as Czech Airlines, Flybe, Onur Air and TAROM) are not serving the airport this summer, ITA Airways recently began a daily service from Milan LIN. Hamburg will also welcome Norwegian newcomer Flyr in mid-August, when the carrier plans to introduce 4-weekly service to Oslo.