New Route of the Day (4 April 2023): Air Cairo between Hurghada and Münster/Osnabrück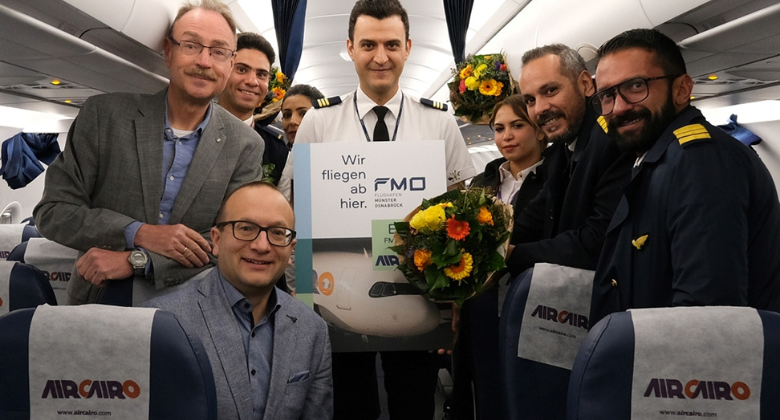 Air Cairo commenced a new seasonal service from Hurghada, on Egypt's Red Sea coast, to Münster/Osnabrück, in northwest Germany, on Tuesday 4 April. The 3,525-kilometre route will initially run weekly, increasing to 2-weekly from 24 June, when an additional rotation will be added departing Hurghada on Saturdays and leavingMünster/Osnabrück on Sundays. The Egypt Air subsidiary is maintaining services on the route with an A320 aircraft. It competes against Corendon Airlines Europe's weekly service between the two airports.
Air Cairo flight SM2956 departs Hurghada on Tuesdays at 21:05 local time, arriving in Münster/Osnabrück at 02:10 local time the following morning. The return service, flight SM2957, takes off from the German airport at 03:10 local time on Wednesdays, arriving back in Hurghada at 07:50 local time.
Münster/Osnabrück expects busy year
Münster/Osnabrück Airport anticipates a busy summer season. In addition to the new Air Cairo service, Ryanair will introduce 2-weekly flights from Zadar on the Croatian coast starting 2 June. Furthermore, the airport will add another destination in North Africa with Nouvelair to commence a weekly rotation from Monastir in Tunisia on 4 July.
TUI will base an aircraft (operated by SmartLynx Airlines) at the airport this summer, providing sun-starved locals with direct flights to Mallorca, the Greek Islands, and the Canary Islands.
Meanwhile, Lufthansa is increasing frequencies to its Frankfurt and Munich hubs to pre-Covid levels, with up to eight daily departures. In addition, SunExpress has improved its schedule to Antalya by offering up to three daily departures from the beginning of the summer season, while GP Aviation is operating an additional weekly frequency (in total three) to Pristina.
Münster/Osnabrück handled 834,000 passengers last year, an increase of 130 per cent compared to 2021.