New Route of the Day (4 April 2023): Austrian Airlines between Vienna and Billund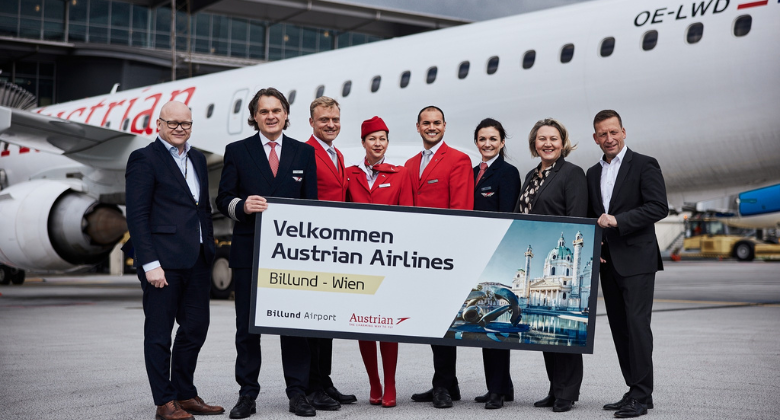 Austrian Airlines introduced a new seasonal summer service between its hub in Vienna and Billund on Tuesday 4 April. The 990-kilometre route will be maintained 3-weekly on Tuesdays, Thursdays and Saturdays with the 120-seat E195 aircraft. Austrian will compete directly against Ryanair's 3-weekly flights on the route.
What they said
Jan Hessellund, the CEO of Billund Airport, said: "It is a big day for both Billund Airport and the Lufthansa Group. The good cooperation clearly deserves a celebration, and we are enormously proud and honoured that the Lufthansa Group sees great value in Billund Airport and recognises that the surrounding market demands the Lufthansa Group's network. This opens up a great many different route combinations, where you can, for example, fly out with Austrian Airline via Vienna and return home with Brussels Airlines via Brussels or Lufthansa via Munich."
Alice Irvin, the Ambassador of Austria to Denmark, added, "I am very happy that Billund Airport will become a new gateway to Austria. This new flight route between Billund and Vienna will further strengthen the economic and tourist exchange between our two countries and will significantly shorten the travel time between Vienna and all of Jutland."
Billund adds seven new routes
After having its passenger numbers bounce back to pre-pandemic levels last year, Billund Airport will add seven new routes to its network this summer. These include Berlin, Valencia and Alghero with Ryanair; Keflavik with PLAY; Kangerlussuaq (Greenland) with Air Greenland and Helsinki with Finnair.
Located in central Denmark, Billund has a modest population of just under 7,000 people. It is best known as the home of Lego, the toy company famous for its plastic building bricks. The company built its own airfield in the early 1960s, which has evolved into Billund Airport. The world famous visitor attraction Legoland, which opened in 1968, is within walking distance of the airport's terminal, which is to the north of the town. It attracts over two million visitors each year.