New Route of the Day (4 February 2023): SWISS between Zurich and Bristol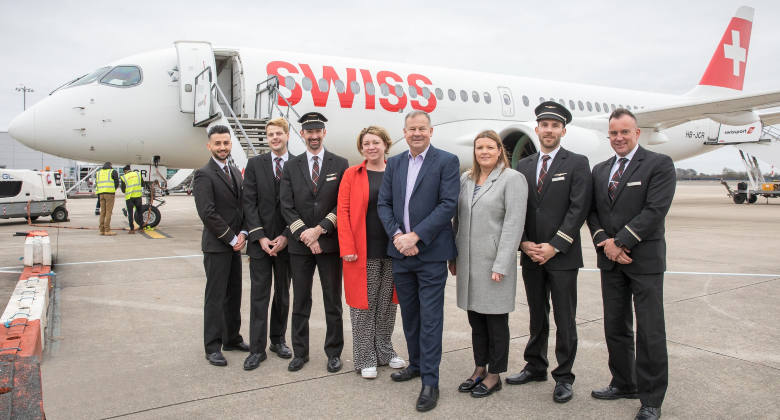 SWISS has expanded its presence in the UK by introducing flights from its Zurich hub to Bristol. On Saturday 4 February, the Star Alliance carrier began a weekly service on the 925-kilometre route using the airline's A220-300s. Frequencies will be increased to 2-weekly from 27 March, operating each Monday and Friday, growing to 3-weekly from 7 June with an additional weekly rotation on Wednesday. No other carrier connects these two airports.
What they said
Heinrich Lange, Senior Director Sales Northern Europe, Lufthansa Group Airlines, said: "SWISS is very pleased to add Bristol as our 8th airport in the UK, from where we offer direct flights to Zurich and beyond. Our initial timetable has primarily been designed to enable customers a convenient arrival into the Swiss Alps. From April onwards we are increasing our frequency and as of June we will operate three weekly flights Bristol-Zurich. Our new Bristol services offers convenient schedules between Bristol and Switzerland's financial centre and an easy access to our global network of over 110 destinations."
Shaun Browne, Head of Airline Relations, Bristol Airport, added: "This is an incredibly exciting day for Bristol Airport and the region. SWISS is a major global airline and this decision shows confidence in the region. The regular scheduled service between Bristol and Switzerland opens up a wide range of European and worldwide connections to our customers. Zurich is a great city whether for business or leisure and the link between the cities allows us to promote the South West and Wales region to inbound visitors from Switzerland and beyond. We see great potential for this service and are delighted SWISS have already confirmed they will be increasing the frequency to three flights a week in the summer and we will continue to work with SWISS on other exciting route opportunities for the future."
Growing operations in the UK
According to Cirium data for June 2023, SWISS now serves Birmingham (8-weekly), London LHR (49-weekly), London LCY (28-weekly) and Manchester (12-weekly) in the UK, in addition to Bristol, from its Zurich base. Furthermore, it maintains year-round operations from Geneva to London LHR and London LCY, with a seasonal winter service to London LGW as well. SWISS becomes only the second Lufthansa Group member to serve Bristol, alongside Lufthansa itself from Frankfurt.