New Route of the Day (4 June 2023): Jazeera Airways between Kuwait City and Tivat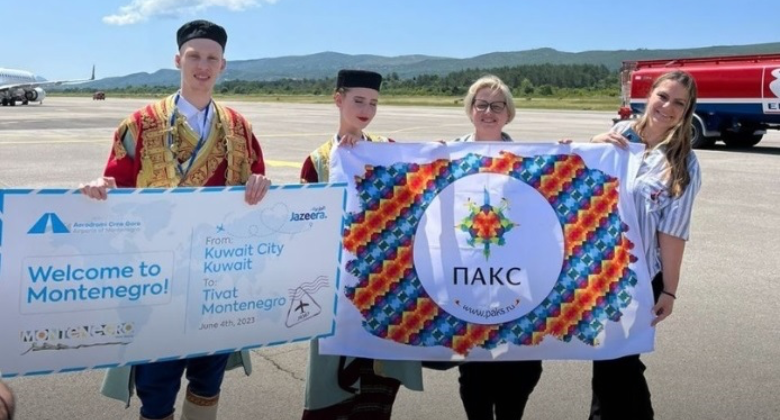 Kuwait's Jazeera Airways has added another point in Europe to its portfolio of destinations by introducing flights between Kuwait City and Tivat on Sunday 4 June. The 3,000-kilometre route will be maintained 2-weekly on Thursdays and Sundays with the 162-seat A320neo aircraft. The LCC faces no competition between the two cities, becoming the first airline to ever operate scheduled flights between Kuwait and Montenegro.
What they said
Rohit Ramachandran, Chief Executive Officer at Jazeera Airways, said: "In our pursuit to offer direct flights to lesser explored destinations, we are pleased to add Tivat in Montenegro to our growing network. Montenegro will join Serbia and Albania in our list of seasonal European destinations. We are also restarting flights to Prague and Sarajevo this summer. This will give vacationers from Kuwait a wide range of cities in Europe to choose from with convenient and affordable flights."
Eldin Dobardzic, the President of the Board of Directors of operator Airports of Montenegro, added: "We have witnessed a historic flight from Kuwait to Tivat today. The introduction of nonstop flights between Kuwait and Montenegro is testament to the increased demand from rich Gulf states for our market, which should be a cause of celebration for the entire country and not just the airport."
Tivat turns to Gulf to replace Russia, Ukraine markets
Tivat is located on Montenegro's Adriatic coast and primarily caters for seasonal and summer leisure flights. It is the country's second airport after Podgorica. Until the war in Ukraine, the Russian market was Tivat's biggest, accounting for over 50% of all passengers.
Last year, Tivat handled just over 652,000 passengers compared to just over 1.36 million in 2019. The sharp decline is attributed to the war in Ukraine. As a result, since 2022, the airport has tried to diversify its source markets and has increasingly turned towards the Gulf.
In addition to Flydubai's service from Dubai, which has been in operation for several years, Saudi Arabia's flynas has introduced flights from Riyadh this summer, which will be followed by flyadeal launching the same route on 24 June.
Jazeera Airways expands to 62 destinations
Jazeera Airways has been building its number of destinations in Europe since the start of the year, increasing its network to 13 points on the continent. The carrier initially introduced flights to Moscow DME on 2 February, followed by the Albanian capital of Tirana on 9 May. In addition to the newly added Tivat service, Jezeera Airways will commence flights to Munich on 13 June, as well as to the Serbian capital of Belgrade on 16 June. With the new cities added to Jazeera's network, the airline now serves 62 destinations across Europe, the Middle East, Central and South Asia and Africa.