New Route of the Day (4 May 2022): Lufthansa between Frankfurt and Liverpool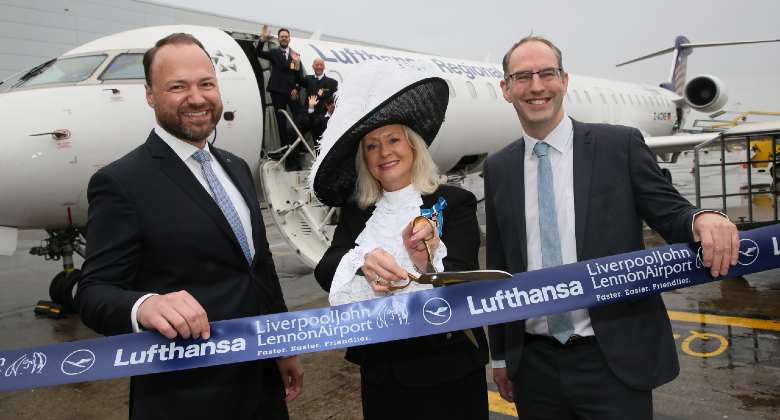 Lufthansa has added Liverpool to its Frankfurt network with the introduction of a 4-weekly service, which will operate on Mondays, Wednesdays, Fridays and Sundays. The UK airport celebrated the launch on Wednesday 4 May, which, unfortunately, was a rather wet day. In fact, the first flight between the two airports took place on Monday 2 May. However, that was a UK national holiday. The new service is being flown by Lufthansa CityLine CRJ900s with departures from Liverpool on Wednesdays and Sundays being at 08:50. On Mondays and Fridays the German flag-carrier is set to depart from Liverpool at 17:30.
What they said
John Irving, CEO of Liverpool John Lennon Airport, commented: "We are delighted to see this important and strategic new route come to fruition, with Lufthansa welcomed here today by representatives of the business community and visitor economy from across the Liverpool City Region, Cheshire and North Wales. This route reconnects Liverpool with the world, now enabling travellers from across the region to fly to a host of global destinations via Lufthansa's seamless connections at Frankfurt, with the added advantage of all the passenger benefits of flying from Liverpool."
Heinrich Lange, Senior Director Sales Northern Europe, Lufthansa Group, added: "The new connection to the heart of Europe has found its first travellers from Liverpool as we can already see good booking figures. We want to convince our customers from North-Western England and Wales about an easy transfer at our Frankfurt hub. Every passenger stays in the same terminal building for their connecting flight. We offer quality and service as a Five-Star-Carrier in the air and on the ground. And we are pleased that Liverpudlians can now start their journey with us from even closer to their home or office. This city known for music, football and trade will also benefit from the global access we provide as the only network airline at John Lennon Airport."
Lufthansa now serves nine UK airports from Frankfurt
Although easyJet, Ryanair and Wizz Air are the biggest carriers at Liverpool this summer, none of them offer any flights to Germany. The airport's last scheduled services to Germany were offered by easyJet, which served Berlin SXF until the pandemic struck. Lufthansa now serves nine UK airports non-stop from Frankfurt, three more than in the summer of 2019. Then it offered flights from Birmingham, Edinburgh, Glasgow, London LCY, London LHR and Manchester. It then added service to Newcastle on 1 July 2021, followed by Bristol on 2 August 2021. These two routes are both set to operate daily this summer.
In terms of flag-carriers offering hub connections, KLM offered multiple-daily flights more than a decade ago to Amsterdam. These services, flown by KLM CityHopper were available between March 2009 and March 2012.